19 May 2022
Founder of A-list favourite Neat Burger, Stasi Nychas, on driving rapid growth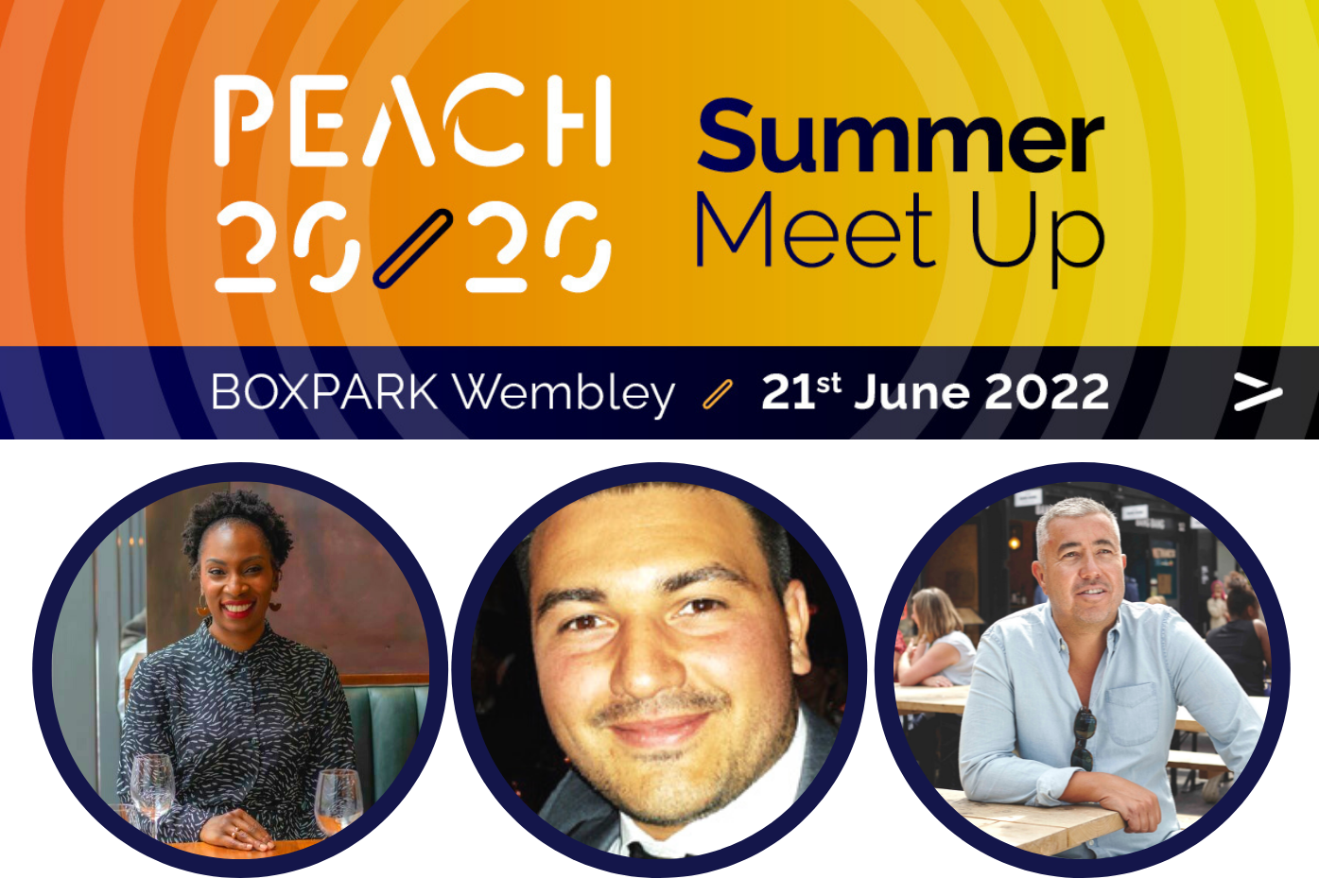 Peach 20/20's first ever Summer Meet Up, at Boxpark Wembley on 21 June, will bring together an exciting panel of industry thought-leaders to discuss the theme: 'Scale it up; Shake it up'.
Expert speakers will share their experience and explore new strategies to accelerate growth in 2022 and beyond. The panel will talk about the need to rethink the old property and funding models as the sector looks to grow again.
Stasi Nychas on Neat Burger's success in attracting A-lister backing
Neat Burger's co-founder and COO Stasi Nychas is among the confirmed speakers. He will be sharing the story of the vegan fast-food start-up's rapid growth and global expansion plans.
Neat Burger has secured investment from the likes of Lewis Hamilton and Leonardo DiCaprio as it bids to become the biggest plant-based chain on the planet. While not a traditional funding method for the industry, anyone who can get such meteoric stars on board must be doing something right!
Lorraine Copes on diversity and barriers to getting started in business
Procurement consultant and founder of Be Inclusive Hospitality, Lorraine Copes has spent almost two decades working within the hospitality sector, successfully leading procurement teams for brands including Shake Shack, Gordon Ramsay Restaurants and Corbin & King; Lorraine's experience spans new market entry, national and international leadership roles.
In 2019 Lorraine felt compelled to form Be Inclusive Hospitality due to the consistent lack of representation of people from Black, Asian Minority backgrounds in positions of influence. Her aim is to accelerate racial equality and level the playing field for those from underrepresented backgrounds within hospitality, food and drink sectors.
Boxpark founder Roger Wade on making it from big idea to 'bricks and mortar'
Founder and CEO at Boxpark, London's award-winning food and retail destination, Roger Wade wears many hats as retail entrepreneur, trend spotter, incubator for emerging brands and landlord.
Roger transformed a patch of wasteland to create the world's first pop-up dining and shopping experience in the heart of London's Shoreditch. The next iteration of Boxpark launched in Croydon in 2015 – with the look and feel of a modern food hall with an innovative structure and outdoor seating space. Finally, inspired by its Croydon sibling but with a twist, Boxpark Wembley launched in December 2018 – becoming a new Fanzone for Wembley Stadium and Arena visitors, and the first Boxpark site to offer leisure activities with its unique 'PlayBox' zone.
Roger is a creative entrepreneur. He is passionate about independent brands, the future of retail, and thinking outside the Box! He'll be joining us at Peach 20/20's Summer Meet up to talk about what it takes to make it from big idea to bricks and mortar (or to be precise container) reality in a changed and challenging marketplace.
Peach 20/20's Summer Meet Up Chair, Peter Martin said: "With challenges in the economy, supply chain and staffing, ambitious operators will need to explore new, agile and inventive strategies in order to grow. This event will provide an important forum to discuss the opportunities, and help operators plot a path to sustainable growth."

The meeting will be followed by networking drinks with our speakers and fellow operators to carry on the discussions.
For more information about Peach 20/20's Summer Meet Up, or to register, click here.