21 Jun 2022
One week to go until Peach 20/20's inaugural Summer Meet Up!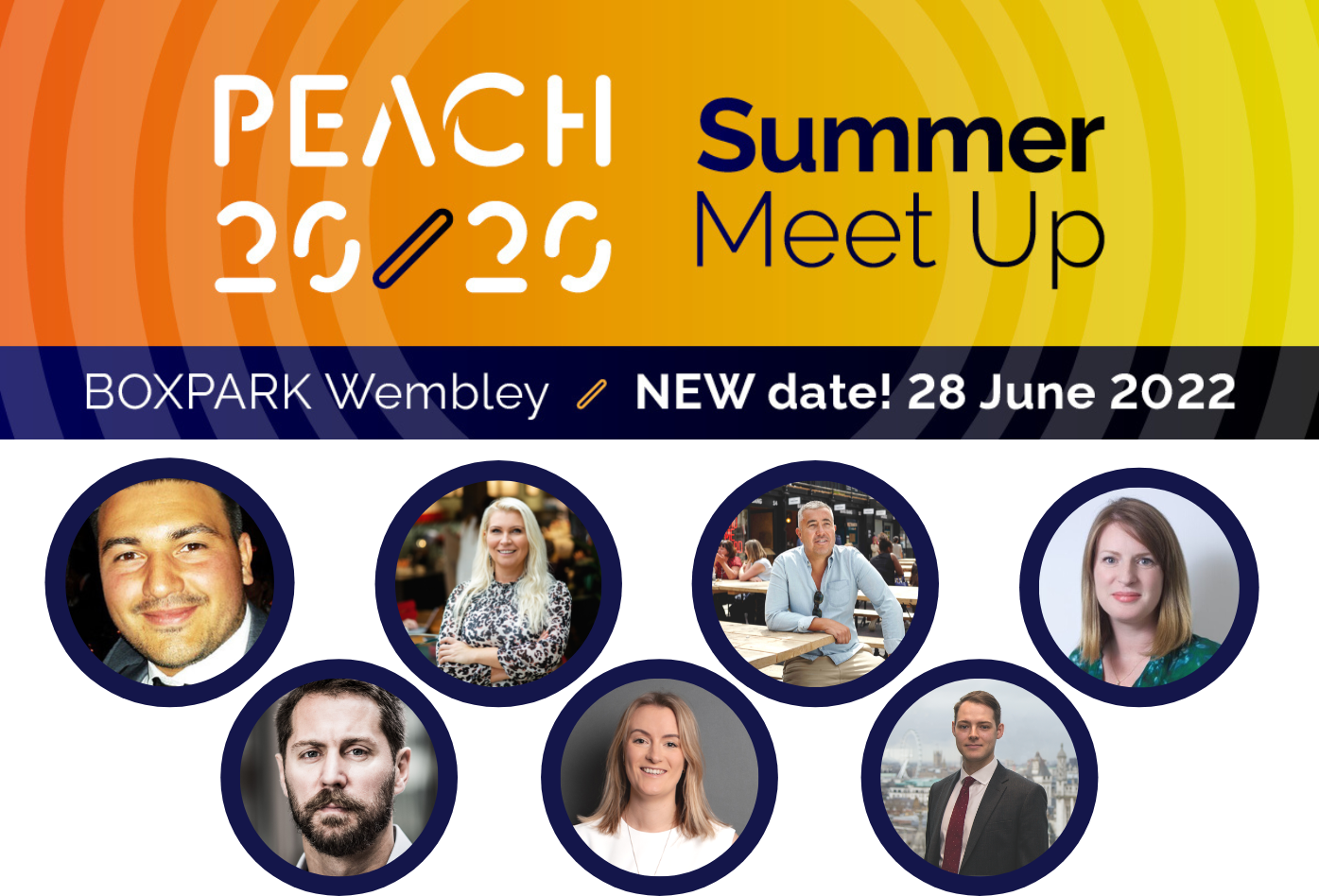 Peach 20/20's first ever Summer Meet Up will bring together an exciting panel of industry thought-leaders, at Boxpark Wembley on 28 June, to discuss the theme: 'Scale it up; Shake it up'.
Peach 20/20 founder Peter Martin will guide attendees through a tight agenda, with respected finance and property experts, franchise gurus and innovative operators - and with plenty of participation from our audience of entrepreneurs, seasoned operators and investors - exploring the options for raising finance, property deals and new agile and inventive strategies to accelerate growth in 2022 and beyond.
Scale it Up; Shake it Up. New models for growth - session details
Rethinking old models
Peter Martin sets the scene by picking over the data that shows how the market has changed physically and attitudinally - and why operators and investors need to adapt.
What really excites investors and developers?
How the right investor can speed growth and help build culture and what makes a good partnership for operators and developers. Panel discussion led by:
Alice Keown, Leasing Director - Restaurants and Leisure, British Land
Ashton Crosby, Managing Director, Capdesia
Franchising, IP and protecting brand assets
Emma Green and James Fowler from international law firm Bird & Bird on how to avoid the obvious, and not so obvious, pitfalls that can accompany expansion plans – domestically and internationally.
Why ambition will out
How a new wave of brands is taking the market by storm by addressing changing consumer needs and aspirations. Panel discussion led by:
Stasi Nychas, co-founder and COO, Neat Burger
Marta Pogroszewska, Managing Director, Gail's Bakery
Head to Head: from big idea to 'bricks and mortar'
Boxpark founder, retail entrepreneur, trend spotter, champion of emerging brands and landlord, Roger Wade in conversation with Peter Martin.
The meeting will be followed by networking drinks with our speakers and fellow operators to carry on the discussions.
Peach 20/20 Founder, Peter Martin commented: "The market is returning with gusto – but with challenges in the economy, supply chain and staffing, ambitious operators will need to explore new, agile and inventive strategies to grow. We'll be tackling the big questions and speaking to thought-leaders to help operators plot a path to sustainable growth".
For more information about Peach 20/20's Summer Meet Up or to register click here.