31 Mar 2022
Let's get Digital. And fast.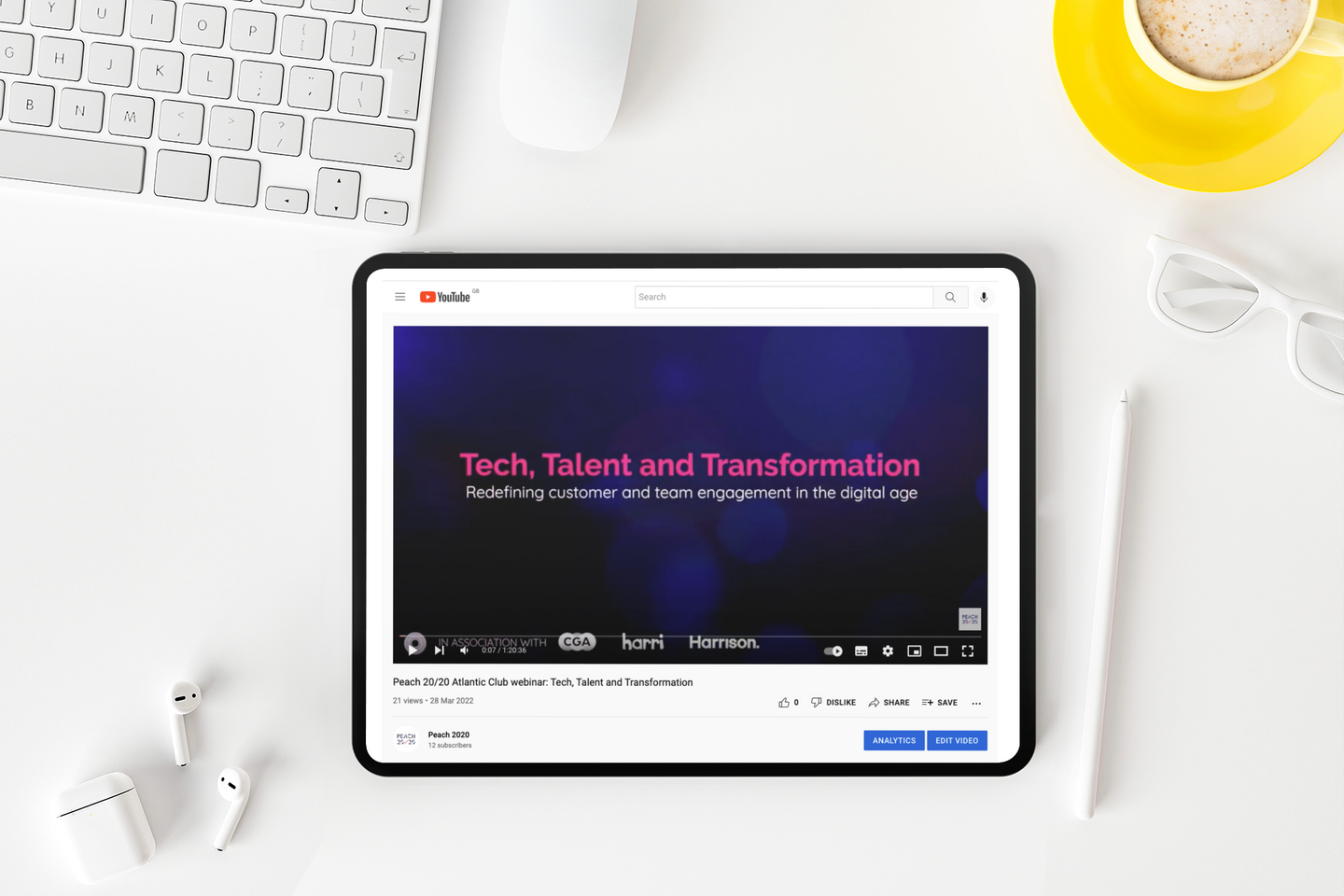 How can eating and drinking out brands stay relevant, compelling and competitive in an increasingly digital-first world? From seamless delivery to delighting customers to winning the talent wars – technology is proving a crucial brand differentiator. Even investors are taking note.
Peter Martin shares his top 5 takeaways from the latest, jam-packed Peach 20/20 Atlantic Club webinar on Tech, Talent and Transformation. Insightful and thought provoking – our speakers certainly gave us plenty to work through.
Watch the full webinar HERE or read Peter's 'cheat sheet' for the headlines.
1 People want easy tech
The pandemic accelerated public demand for technology in hospitality and beyond, said Meredith Sandland, co-author of Delivering the Digital Restaurant. "People are used to having an easy frictionless digital interface that gets them whatever they want, wherever they want, whenever they want." But COVID also showed that the restaurant world has lagged behind retail and other sectors in its rollout of convenient digital solutions. "It's confusing to people that they wouldn't be able to get the same thing in restaurants."
2 Restaurants can become ecommerce businesses
However, hospitality is catching up fast on technology. It's opening up some exciting new opportunities to connect with guests, especially by gathering better data and personalising experiences accordingly—much like big internet retailers do. "Restaurants will start to look a lot more like ecommerce businesses… more like Amazon experiences," she said. "The unknown guest has turned into a known individual with a data history… in the restaurant industry we've all done a lot of segmentation work to try to understand our consumers, but we're finding in ecommerce that behavioural data tells us a lot more than demographics."
US brand Wingstop, now rolling out in the UK, is a textbook example of an ecommerce-powered restaurant business. Jenni Doyle its vice president of international technology, said it was investing $50m in tech over the next five years, and digital channels now generate 60% of all sales—but it's not done innovating yet. "We're not going to stop until we hit 100%."
3 Delivery and meal kits have led the digital pivot
Soaring interest in home deliveries and finish-at-home kits during long closure periods have sped up restaurants' adoption of digital sales and marketing techniques. "Lockdown helped us strategize investments for the business… it gave us an opportunity to clear our heads and think about how we become more innovative," said Martin Williams, founder and CEO of Gaucho and M Restaurants. Improved access to data has made it a better business too, he added. "The ambition is to understand why each guest visits us… and how we take them on a journey of discovery so that we keep a lifetime of loyalty."

Delivery isn't without pitfalls though, especially if quality doesn't stack up. "We're very conscious of brand consistency," Williams said. "But with technology and insights you can do it in a clever way that extends your reach to new audiences without devaluing the brand." Jon Knight, managing director for leisure and concessions at The Restaurant Group, also pointed out that while third-party platforms have powered the delivery market, they have also put distance between restaurants and consumers. "The problem we all have at the moment is that the aggregator owns the customer, but the customer will think ill of the brand if they have a bad experience."
4 Employees need digital tools too
Digital platforms make it much easier for businesses to improve the experiences of employees as well as guests. Luke Fryer, founder and CEO of Harri, said they are particularly effective in sharpening communications and improving people's working patterns—which aids retention. "The key thing people are looking for is predictability and certainty of when they're working… if we're not flexible and respectful of other things going on in their lives, they're going to leave us."
Good, automated technology can also strip out many managerial chores, in shift admin, hiring and elsewhere. "We're investing in understanding where they've got grind, and putting technology in place to solve it. That really energizes a managerial team," Fryer said. He thinks AI and the harmonization of tools on one-stop platforms will soon make technology even more effective.
5 Successful tech = successful business
Other webinar guests echoed the value of tech in keeping staff engaged—especially during lockdowns. Jon Knight said: "When we weren't trading we needed to engage with our teams and make them feel part of the business… Technology enhanced our capabilities to communicate and talk with the team, and it went down incredibly well." Since reopening restaurants, tech has helped to improve TRG teams' shift patterns and work-life balances.
Ultimately this leads to better sales too. Harri UK's commercial director Pete Willis flagged new research from Harri and CGA that emphasises how much team members value flexibility and good working experiences. "If they're happy, they're going to be more productive—and if they're more productive, the bottom line is going to improve."
Watch a full replay of the 'Tech, Talent and Transformation' webinar

***
Peach 20/20's partners on the webinar were CGA, Harri and Harrison.