Cocktails, consumers and cosmic brands: Five takeaways from Jenny McPhee's Top Table Podcast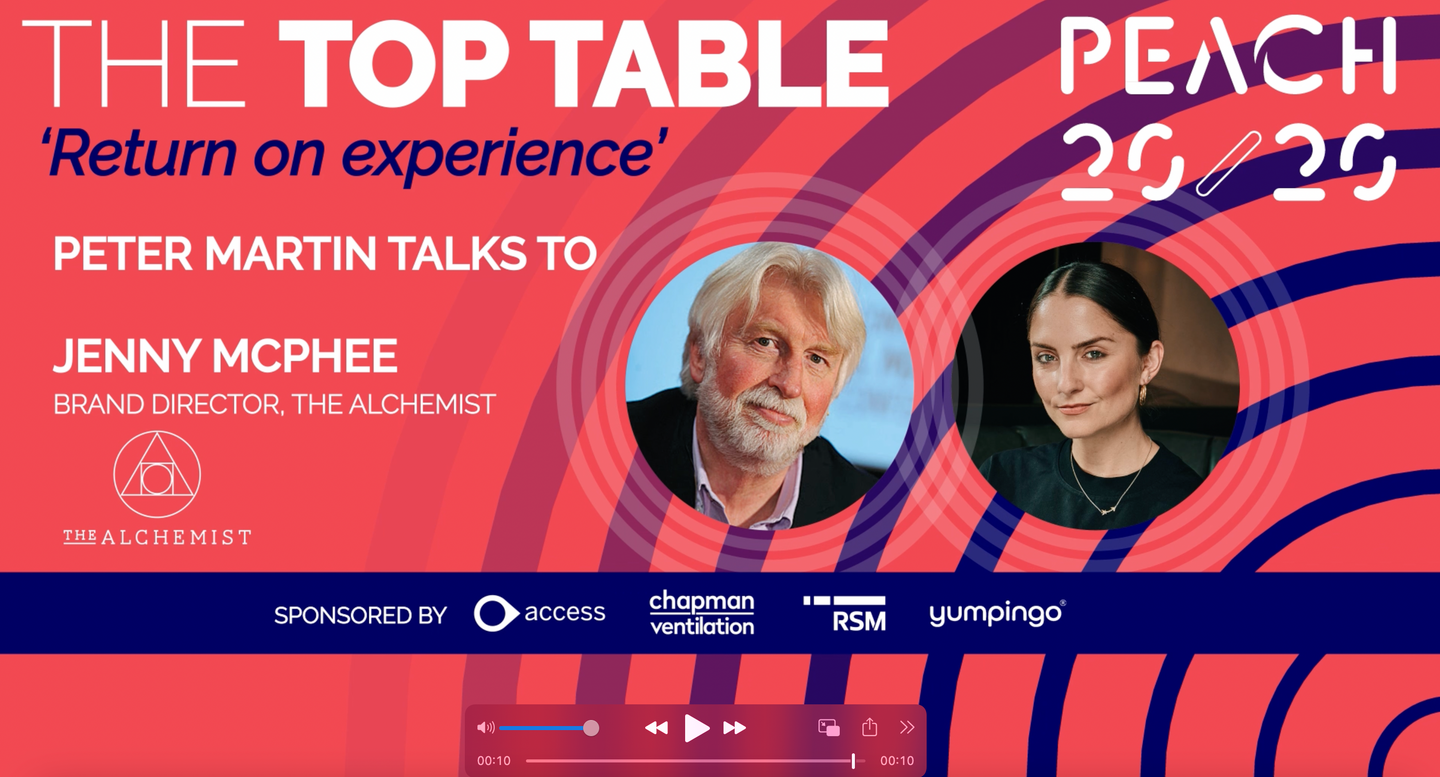 How do established brands stay fresh and ahead of the curve on guest experience? Jenny McPhee, the first brand director of pioneering cocktail bar group The Alchemist, shared some of the secrets on the Peach 20/20's Top Table Podcast. Here are five of her insights.
1 'People are demanding better experiences'
McPhee thinks COVID has made consumers more demanding than ever—which brings big challenges for brand teams trying to inspire loyalty. "It's getting harder. Guests are increasingly picky—and rightly so—about where they choose to dine and drink, and we need to make sure they're getting the experiences they're seeking." She found help with that on the Atlantic Club's recent Miami Tour, including the role of live music and instilling a sense of occasion. "One of my key takeaways was the experiential side of the venues there… It reminded me that people used to get properly dressed up and go out—that's suffered since the pandemic, and it would be great to get back to it."
2 'TikTok helps us show we're a fun brand'
The Alchemist has been attracting a younger audience since the end of COVID restrictions—and that's made TikTok a crucial platform for engagement. It's posting content daily now, with the emphasis on cocktails and taking people behind the bars. "It's an important channel for us… We're trying to show people that we don't take ourselves too seriously and that we're a fun brand." Established socials like Instagram and Facebook are still vital too, and she's keeping a close eye on newer ones like YouTube Shorts and Twitch.
3 'Guests want interaction'
Like many venues, The Alchemist has seen a wave of interest in app orders over the last two years. But while some people have kept their digital habits, others were keen to get back to pre-COVID ways of ordering. "Guests want that personalised service—to talk to somebody and interact. It was really important for us to get back to that place when we reopened." A surge in ecommerce—of cocktails, merch and even NFTs—was another side-effect of COVID. "It helped a lot of us get through lockdowns. It's something we want to keep developing—I think there's a lot of opportunity for growth"
4 'We're entering a cosmic era of branding'
"We're always evolving what the Alchemist is—we have to, or our competitors would fly ahead," says McPhee. As it refurbishes many of its 20 venues and preps new ones in cities including Glasgow, the next iteration of the brand's bars and drinks will be astrological-themed. "We're looking at a cosmic era—otherworldly materials and more ethereal lighting… we want to have that point of difference in our venues."
5 'Cocktails need to capture the imagination'
Cocktails are the Alchemist's bread and butter—it sells about 90,000 a week—and its reputation for theatrical innovation goes on. Recent eye-catching examples include a TNT cocktail and edible cups, and there's a sharp focus on on-trend spirits like tequila. "It's about ensuring that we're creating the new, interesting serves that are going to capture our guests' imagination," McPhee says.
You can listen to the Top Table Podcast in full here on Apple Podcasts, Spotify, Google and Amazon, and stream direct from the Peach 20/20 website.
This episode of the Top Table Podcast is sponsored by Access, Yumpingo, Chapman Ventilation and RSM.

***
Listen now.