18 May 2022
Miami tour takeaways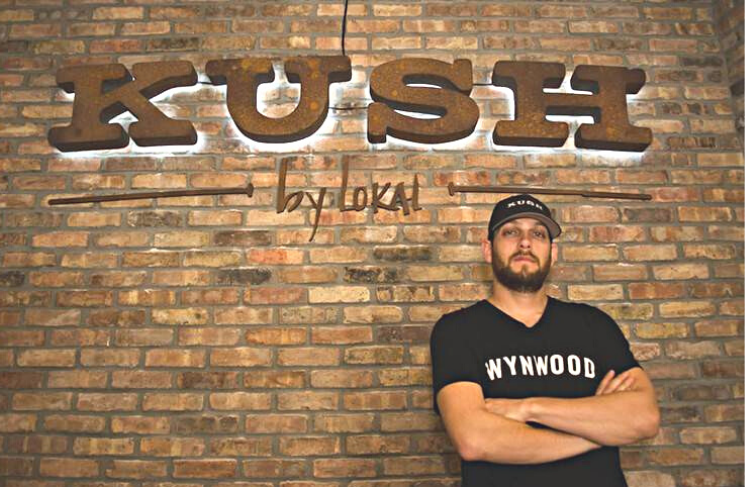 Miami more than lives up to its reputation as one of the most exciting and innovative cities for eating and drinking out, as the Atlantic Club discovered when it came to town for three days in May.
From cocktails in South Beach to tacos in Wynwood, from sushi in Brickell to wagyu in Coral Gables, Miami's distinctive districts delivered a spectrum of experiences and styles of operation – all fueled by a spirit of energetic entrepreneurialism.
Atlantic Club brought together some 40 senior operators and club partners from both the UK and US, all curious to discover the city's secrets. By the end of the three-day tour, they were all blown away by the passion, ideas and execution of the owners, operators and entrepreneurs they met. Here's the first of Atlantic Club founder Peter Martin's Miami takeaways:
Part one: Passion backed by action is irresistible
Visiting concepts is all very well, but meeting the principals behind them provides a whole deeper take on a business and its culture – and that's what Atlantic Club is all about. Ambition is not in short supply in Miami, but those running the operations visited also demonstrated the drive to grow, often in multi directions.
While John Kunkel's polished 50 Eggs' brands, Yardbird and Chica, are already pushing out to major cities across the US, most notably Las Vegas, and overseas to Singapore, the KUSH bar-restaurant business run by the grittier Matt 'Kush' Kuscher is still firmly rooted in southern Florida, at least for now. But both show the attention to detail (or hyper-curation as Kuscher would have it) and ingenuity to keep creating something new and distinctive.
KUSH's nine-site business features Vicky's House, a bar modeled on his mother's kitchen (I kid you not), and he also runs a Jewish deli, Kush Hialeah, and a replica of Miami's oldest pre-Prohibition bar, Tobacco Road. 50 Eggs, in the meantime, is developing a new Japanese restaurant concept Wakuda, for the Las Vegas and Singapore markets.
Likewise, Nobu and Sushi Samba trained chef Jose Mendin is not only rolling out his sushi meets community restaurant concept Pubbelly across the Miami area, he has also opened a local Italian restaurant in South Beach and is working with restaurants as far apart as Paris, Puerto Rico and Mexico City.
The three founders of the fast casual Coyo Taco brand have already taken that business to half a dozen locations in and around Miami, but also internationally to the Dominium Republic, Paris and Lisbon. In their bid to maintain a local feel, the Wynwood site features a speakeasy out back. The trio keep busy by also owning and running a range of eclectic bars and open-air spaces in the cool Wynwood neighbourhood.
Then there's Manny Portuondo, whose ambition was to recreate the family brewery business, once the oldest and biggest in Cuba, in the heart of Miami. The brewery was taken by the communist regime after the revolution in 1960. Having persuaded Heineken to invest, his dream, Cerveceria La Tropical, is now a reality – a modern brewery with bar and beer garden in the heart of Wynwood. Two years on he brewed the official beer for the Miami Grand Prix.
But Miami is also open to outside brands. One of the latest openings in town is the new flagship Fogo de Chao in Coral Gables. Designed by Atlantic Club partner company Harrison, the upscale Brazilian steakhouse and churrascaria features a stylish butcher's shop and a separate lounge bar on the mezzanine, to cater for a new post pandemic clientele. Fogo CEO Barry McGowan, an Atlantic Club regular, is overseeing a rapid expansion for the brand across major US cities, South America and also the Middle East.
And another brand represented on tour will soon be joining the Miami market too – watch this space.
These featured entrepreneurs are all busy people, which might explain their success.
Coming next: Miami Takeaways part 2 will feature why Miami is beating the rest of the US in post COVID recovery, who's still spending, who might soon be squeezed, the threat of creeping gentrification and why Britain is not that different in some ways.
Companies and brands involved in the Miami tour included: The Alchemist, Piano Works, Junkyard Golf, Revolution Bars, Velvet Taco, FB Society, Loungers, Coolgreens, Flat Iron, Hawksmoor, Boxpark, Caravan, Red Engine, Fogo de Chao, Aussie Grill, Ole & Steen, TriSpan, Hospitality Inc, 50 Eggs, Coyo Taco, Kush Hospitality, Est 33, Pubbelly and Cerveceria la Tropical
Atlantic Club is sponsored by Harrison, Harri, Yumpingo and CGA.
Thanks also to Bacardi for hosting Day 3.
For more information about the Atlantic Club and how to register your interest in joining future tours click here.