09 Mar 2022
It's a wrap: from lockdown to IPO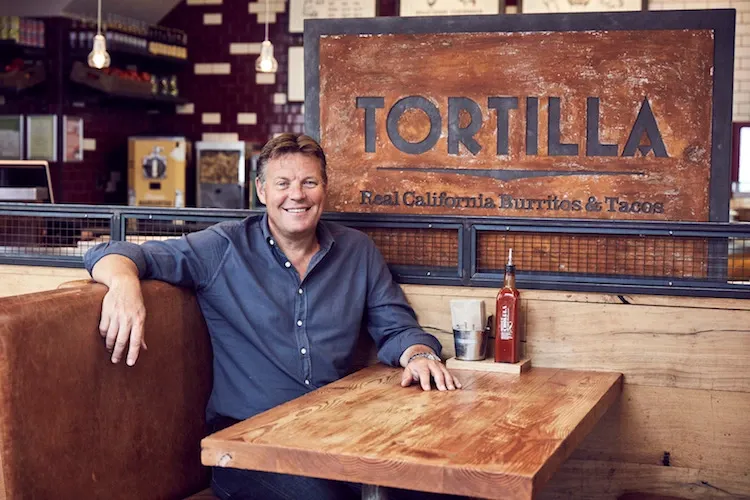 Tortilla Mexican Grill's dynamic leadership duo of CEO Richard Morris and Chair Emma Woods are the latest guests on the Top Table Podcast from Peach 20/20. From the opportunities and challenges of delivery to IPOs to turbocharging growth, here are some of the top takeaways from their chat with Peter Martin.
1 'Reopening for delivery was the best decision we've made'
Tortilla was in good growth before COVID hit, but it's doing even better now. The leadership team's singular focus on supercharging its delivery channel has reaped dividends financial and operational. In the early days of lockdown, Morris quickly realised people wanted an alternative to supermarket food, and that staff wanted to get back to work, and Tortilla became one of the first brands to get back into the delivery market. "In hindsight it was the best decision we've made—we were incredibly busy," says Richard Morris. "It's rare you get an opportunity to steal a march on your competitors… But there's no doubt that that's what we did. And the momentum just kept going."
2 'An IPO seemed a really good way to go'
Success in delivery led Tortilla to thoughts of an IPO. With a good-news story to tell, a brand in the sweet spot of high quality and good value, a great team and balance sheet and the wherewithal to expand, the stars were aligned. "We realised we were a rare commodity in hospitality—one that had found a way of dealing with the pandemic," says Morris. "We didn't want to waste that opportunity, and the public market seemed to be a really good way to go." It's a move that's paying off for Tortilla and shareholders alike, he thinks. "I will continue to believe it's a fantastic investment. This business has got so many opportunities now, and we're in a position to take advantage of them."
3 'Tortilla has so much potential'
Emma Woods became Chair at Tortilla just before the float, and her track record at PizzaExpress, Wagamama and Merlin instilled vital confidence in investors. "The markets were beginning to get wobbly, so it was a bit of a race to get our IPO away," she remembers. Six months into the job she's very confident about the future. "I'm absolutely loving it. Richard's team is fantastic, the business is fantastic, and there's so much potential."
4 'At some stage we'll look outside of the UK'
Morris says there's much more growth to come for Tortills - on its own and in collaboration with delivery partners, franchisees and others. "We'll open more bricks and mortar sites this year than we've done before, and we've got some great plans around cloud kitchens." More overseas sites are in the mix too. "At some stage, we'd like to look outside of the UK." It's a very scalable concept, but Woods will make sure the brand doesn't lose the winning formula of strong culture and careful planning that founder Brandon Stephens created. "They've always had huge discipline about site selection… and we've got to be really thoughtful about that as we go forward."
5 'We're restaurants that offer a delivery service'
For many operators, striking the right balance between delivery and dining-in will be a priority in 2022—and Tortilla knows where its main focus should be. "Whatever we do, we're restaurants that offer a delivery service—we're not a delivery business with a few seats—and the mindset of that is actually quite challenging," Morris says. "If you forget the people who are walking into your business, before you know it you're running a delivery business. And that's really not where we're about."
Catch up on the Peach 20/20 Top Table podcast with Richard Morris and Emma Woods here

***
The Top Table Podcast is sponsored by Bidfood, Fourth, Stint and Zonal.