10 Aug 2022
How to win in tech: Five takeaways from Olivia FitzGerald's Top Table Podcast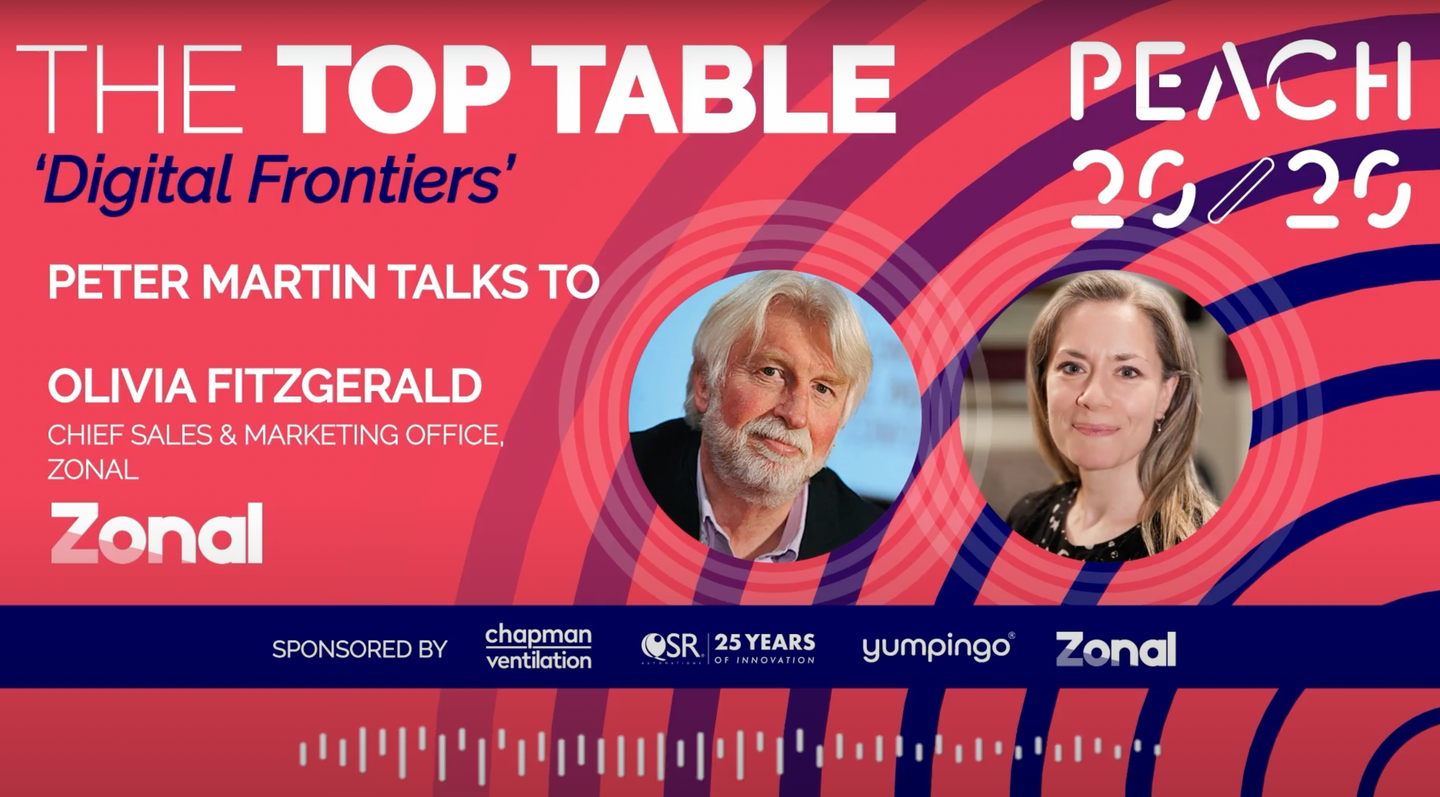 As hospitality pushes back the digital frontiers, how can brands properly engage consumers and make the most of their data? Digital expert Olivia Fitzgerald, chief sales and marketing officer at Zonal, shared some of the secrets with Peter Martin on Peach 20/20's Top Table Podcast. Here are just five of the top insights.
1 'COVID has accelerated the uptake of tech'
Hospitality has sometimes been criticised for lagging in its use of digital solutions — but COVID has focused everyone's minds on what it can do, Fitzgerald said. "The pandemic has really accelerated the uptake of technology in the world at large. There are still some areas where we're trailing a bit behind other Industries, but there's a lot of very good Innovation going on… and we're seeing the benefits of it."
2 'Social media isn't one size fits all'
Areas where teams have upped their game include social media. "There are a lot of younger people in hospitality businesses who are natural social media users, and that's filtering through into some fantastic presences [for brands]," FitzGerald said. There's room for improvement though, like in the way channels are personalised and monetised via ecommerce. And it's important to understand how the wide variety of platforms are used — like TikTok and Snapchat by younger guests, and Facebook and Twitter by older ones. "It's not one size fits all, and you have to think about which platforms you want to invest in, because it's very time-consuming."
3 'We need to build trust on data'
Databases remain crucial to consumer engagement, but brands need to earn the right to use people's details. "The trust factor is incredibly important," FitzGerald said. "So many places are asking for our data, and we want to know what we're going to get in return for it [and] what they're going to do with it." The other big challenge for operators is to join up all this information and make the most of it. "We're awash with data but finding those three or four really salient data points that are going to impact profits and engagement — that's the bit that is still really difficult."
4 'People still want interaction'
Despite the rise of tech, consumers still want human contact. "We've all got used to ordering and paying from mobiles, but at the same time people very much value the personal interaction, the warm welcome and all those things they've always loved about our industry." Tech should support the human element, not replace it, FitzGerald argues. "You need to look at your business model and service first, and then think about how tech can enhance that... it shouldn't be tech for tech's sake."
5 'Crisis can drive innovation'
With soaring costs and labour shortages, it's a hard time for hospitality. But with smart use of tech, good businesses will not just survive the crisis but thrive on the other side of it. "The next year is going to be pretty tough — not just for hospitality but for all businesses," FitzGerald said. "[But] it drives innovation and makes us sharpen up in all kinds of ways. Some of the ideas and changes that come out of a period like this can be invigorating."
You can listen to the Top Table Podcast in full on Apple Podcasts, Spotify, Google and Amazon, and stream direct from the Peach 20/20 website.
The Top Table Podcast is sponsored by Chapman Ventilation, QSR Automations, Yumpingo and Zonal.