06 May 2022
How Vapiano reworked its tech-based service style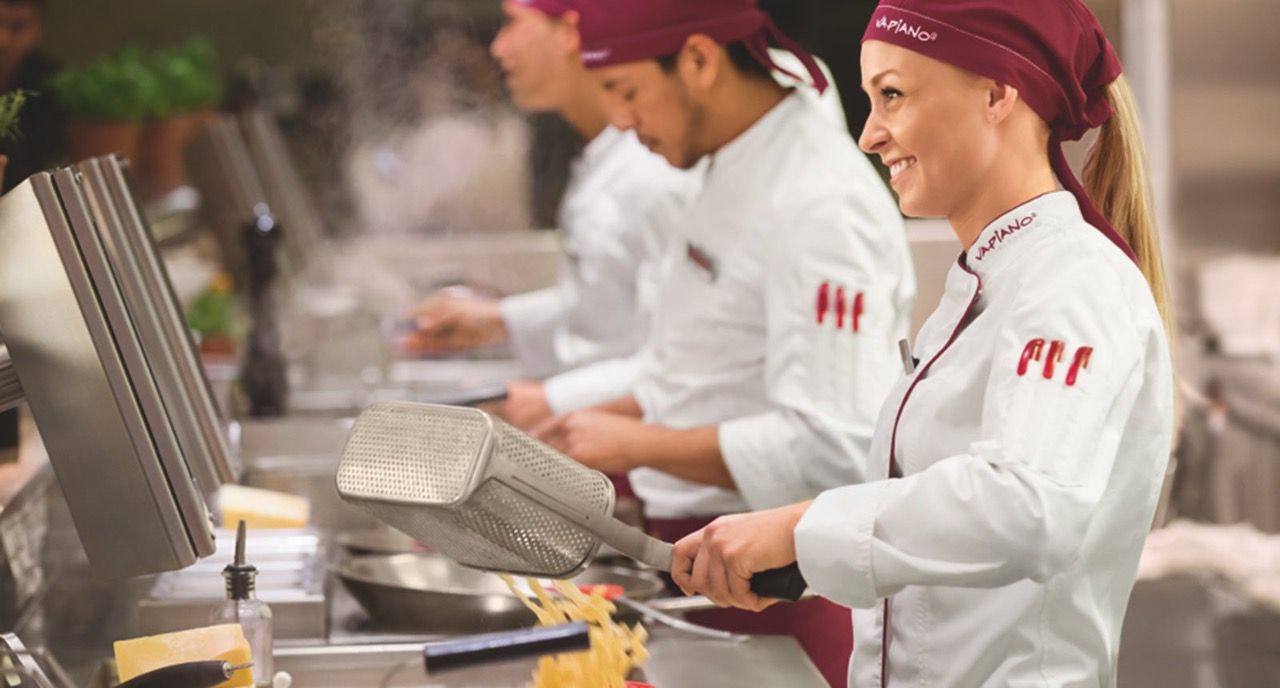 When the Italian restaurant brand Vapiano launched in 2002 its service style was considered cutting edge and a novelty in the industry. The guest journey was based on customers being given a RFID (Radio-frequency identification) card to order and eventually pay.
Fast forward to September 2020 and with Covid still having a major impact on restaurant operations, Vapiano decided to dramatically pivot its service style to a digital journey. The old card-based tracking system that could search, identify and communicate with people and items went. Now guests scan a QR code on the menu via their mobile phone, place their order, have it delivered to the table and pay via mobile at the time of ordering.
Craig Goslin, managing director, and Michael Szubarga, IT and digital adoption manager at Vapiano UK, tell the story of the transformation in a video interview produced with technology partner QSR Automations. They explain how technology played the lead role in allowing them to become more efficient and streamlined, while continuing to deliver exceptional customer experience.
Goslin explains one of the biggest issues with the original system: "Our guests would enter the restaurant, receive their card and order their meal directly from the chef. Once the dish and drinks were prepared, they would simply tap their card on the reader and the meal would be loaded. The final stage was to hand the card to the host and pay. Unfortunately, some guests were able to leave without doing so, which cost the business in 2019 alone around £140,000 in lost revenue due to walkouts."
Vapiano was founded in Germany in 2002 and currently has around 190 restaurants globally and a team of staff called Vapianisti. Pasta is at the heart of what they do and is freshly handmade in-house every day, together with its pizza dough, sauces, dressings and desserts.
The name Vapiano has been created from an Italian proverb, Chi va piano va sano e va lontano, meaning: "If you have an easy-going and relaxed approach to life, you'll live healthily and longer."
To enable the brand to deliver such a momentous change in service style, it required QSR's ConnectSmart Platform to deliver a streamlined, efficient service model across back-of-house. Szubarga explains: "Efficiencies across back-of-house was a huge priority for us because at the time, our chefs weren't controlling the pace of the restaurant, the guests themselves were. We required a smart technology solution which would allow us to produce dishes to the highest of standards, cooked and delivered to the table at the same time to enhance the guest experience. All the intelligence ConnectSmart has given us has ensured we're a lot more efficient and incredibly streamlined. To be honest, its potential is endless."
Click here to watch the video.
To find out more about Peach 20/20 partner QSR Automations' ConnectSmart Kitchen technology click here.