21 Nov 2022
Time to make tech work: Five takeaways from Kim Teo's Podcast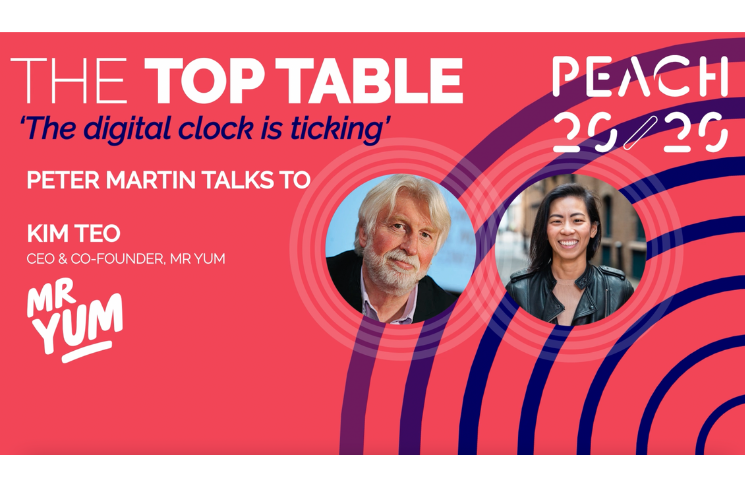 While hospitality has grown much more confident with technology, there's untapped potential to make it work better for guests and teams. Kim Teo, founder and CEO of Mr Yum—the digital enterprise that provides mobile tools for guests to browse menus, order and pay and support brand engagement—shared her views on a host of tech issues in the latest episode of Peach 20/20's Top Table Podcast. Here are five of her messages.
1 'Hospitality doesn't need more tech—it needs it to work'
In the rush to show consumers they are digital-savvy brands, it's easy to use technology for technology's sake. But Kim thinks it should always meet a need and deliver better experiences. "Hospitality doesn't need more and more technology—it just needs technology to work." The good news is that many businesses are now getting it right. "Guests experience brands through technology now… Whether we like it or not, that's the age we live in. Hospitality brands are finding clever ways to meet their customers where they want to be met."
2 'Some touchpoints need to remain human'
Another common pitfall of technology is that it compromises the face-to-face interactions that make hospitality special. "The best adopters of tech build it into the sequences of service. It's not the first or last thing you bring out—those touchpoints [with guests] still need to remain human," Kim said. Focus on where tech can take up teams' strain, like ordering and payment. "Let the technology do some of the administrative work so your team can have more free time to interact with guests."
3 'People are visual'
Mr Yum grew out of a need to give people visuals of food and drink in the Instagram age. It isn't enough to tellpeople about what they can buy these days—they want to see it too. "We saw the contradiction between what was happening in restaurants and the behaviour of consumers outside the restaurants. People are visual and they want to see what the menu looks like," Kim said.
4 'Tech companies need to deliver on their promises'
Having worked globally, Kim sees interesting contrasts in attitudes to tech. Australia and the US have been quick to adopt and leverage solutions like digital menus, but the UK has been more cautious. Businesses here rightly expect tech to work hard and repay investment. "You've got to deliver on your promises and be open, honest and transparent… if you can do that consistently, your reputation can build fast."
5 'We need to get the love back into technology'
Kim acknowledges that adopting new tech isn't cheap or easy, and some businesses find it daunting—but it's worth the effort. "We've got to change the impression of technology in the industry—to make ourselves attractive and fun to work with… There's so much stuff you can do, and we're investing time into getting the love back into technology." One of the biggest frustrations is that different digital solutions don't always talk to each other. "There's a lot of work to be done on integration… if tech partners don't work hand in hand, we've got a big problem," she said.
You can listen to Kim Teo's Start-up Hub Podcast in full and for free on podcast platforms including Apple, Spotify, Google and Amazon, and stream direct from the Peach 20/20 website or the Peach 20/20 YouTube channel.

* * *

Guest: Kim Teo, CEO and Co-founder, Mr Yum

Host: Peter Martin, Executive Director, Peach 20/20

Sponsored by: Bird & Bird, CGA by NielsenIQ, Mr Yum & Zonal.
This episode of the Peach 20/20 Podcast was recorded at BrewDog's podcast studio at its new Waterloo venue.