09 Nov 2022
No time to ease back on the climate crisis: Five takeaways from Thomasina Miers' Top Table Podcast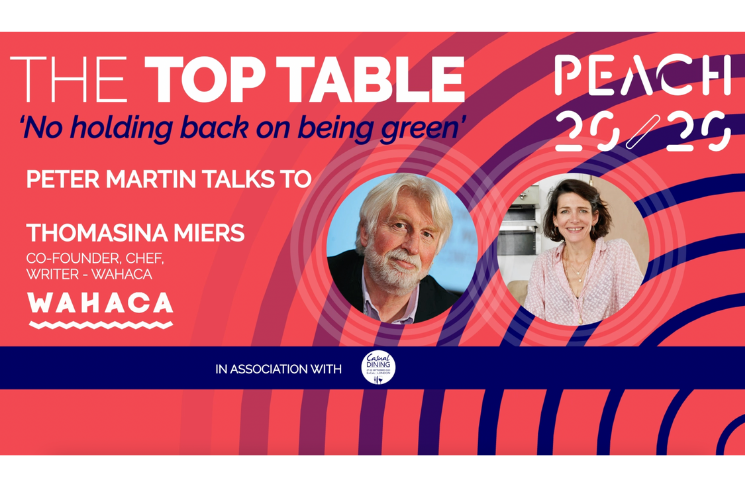 Wahaca is a pioneer of restaurant action on the crucial issue of sustainability - with work to inspire all operators and suppliers. Co-founder of the Mexican street food brand Thomasina Miers knows the issues are real, but solutions are never straightforward. She shared lessons from her and Wahaca's environmental journey with Peter Martin in a special episode of Peach 20/20's Top Table Podcast, recorded at the Casual Dining Show—and here are five of her top messages.
1 'Sustainability feeds into everything we do'
With about 30% of greenhouse gas emissions caused by food production, everyone in the eating-out world should put sustainability at the heart of their strategies—and Miers said Wahaca did that from the get-go. "How we eat and treat the planet fitted into how we set out with Wahaca… it continues to feed into everything we do."
2 'Sustainability isn't optional anymore'
With the climate emergency now daily news, Miers thinks people hold brands to higher sustainability standards than ever before. "Consumers now expect the places they go to eat to be thinking about sustainability—to talk about it and show them what they're doing. It's not an optional luxury anymore."
3 'We need to ask our suppliers questions'
Restaurants can't get to carbon-neutral status on their own—they need to bring their whole supply chain on the journey. That means asking suppliers some tough questions, about food production, deliveries, packaging, recycling and much more. "We have a tremendous amount of soft power just by asking the right questions of our suppliers," Miers said. "Some are more reticent, but almost everyone—even the dinosaurs—are beginning to realise they've got to make changes."
4 'Get into the nitty gritty of environmentalism'
It's tempting to look for easy solutions on sustainability, like carbon offsetting tokens or tree planting programmes. But genuine improvements need more work than that. "There are so many quick fixes and gimmicks… but what's the cost of them?" Miers said. "What we love to do is get into the detail and the nitty-gritty of environmentalism because otherwise it's so easy to think you're doing the right thing."
5 'Going green can save you money'
Reducing carbon footprints is the right thing to do in ethical terms, but it makes commercial sense as well—even if it requires some upfront investment. "Some things like composting will cost you more… but in other ways going for a greener future for your business can save you [money] on gas and electricity," Miers said.
Wahaca won the inaugural Sustainability Award at the 2022 Peach Hero & Icon Awards. Thomasina Miers is a former winner of Masterchef and splits her time between Wahaca, where she is still intimately involved in developing menus, and being a food writer and author.
You can listen to the Top Table Podcast in full on podcast platforms including Apple, Spotify, Google and Amazon, and stream direct from the Peach 20/20 website or the Peach 20/20 YouTube channel.
This episode of the Top Table Podcast is produced in association with the Casual Dining Show.