03 Mar 2022
The art of growing brands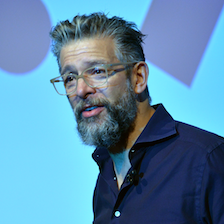 In the first Start-up Hub Podcast from Peach 20/20, international brand rollout guru Marcel Khan tells Peter Martin about bringing Italian pasta brand Miscusi to London and beyond. He chats about the concept's appeal, the importance of sustainability and purpose, the art of growing brands and much more—and here are just five of the messages from the conversation.
1 'London is a brilliant test market'
Khan has been an investor and advisor with Miscusi for 18 months now, and his passion for the concept shines through: "I fell in love with it." He has led the brand to its first UK site, a high-profile unit in Covent Garden, and the second in Islington will test its potential as a neighbourhood-style venue. More territories will follow, but for now Miscusi is honing its skills in the capital. "Who knows where it's going to take us, but we know we need to compete with the best of the best—and London is the place to find them."
2 'Our purpose is what drives us'
With a call-to-arms of 'Good for you, good for the planet,' sustainability matters a lot at Miscusi, and Khan thinks the issue is going to become even more important to consumers and operators alike. "It's almost like a belief system—it's absolutely central to what we want to achieve." But he's wary of getting preachy. "The real trick is to make it super-fun and not take it too seriously."
3 'Young people want to do things right'
Khan thinks Miscusi's sense of purpose gives it an extra selling point in recruitment. "Doing things right is increasingly what a lot of young people want to do—and that makes me feel amazing about the future of the industry." A clear mission can also help to instil distinctive and attractive values in a business. "You don't arrive with a culture—it shapes itself, and you build it on the people as much as the vision."
4 'Focus on what matters and what doesn't'
With a background at Nando's, Five Guys and Thunderbird Fried Chicken, Khan knows a thing or two about planning rollouts. What all his projects have in common is relentless attention to the fundamentals of hospitality and specific brand strengths—in Miscusi's case, good and affordable pasta. "The lesson of Five Guys was razor-sharp focus on what matters and what doesn't. So many businesses want to be amazing at everything… but less is more—though if you want to focus on less, you have to be bloody good at it."
5 'Be humble and listen'
Another recurring theme of rollouts has been the intense efforts to connect with guests and give them a good time. "You need to accept that you're here as a service provider… being humble about that is a good starting point for anyone in our industry." Spending time learning what people think about you pays off as well. "Knowing how and where to listen is incredibly important." Five Guys has been built on consistently great experiences rather than blockbuster marketing, he adds. "Ultimately a brand is as good as its word of mouth. You can't create hype, but you can earn it."
You can listen to the Start-up Hub Podcast in full HERE

***
The Start-up Hub Podcast is sponsored by Bird & Bird and Zonal.