05 Dec 2022
Ten ways to sell hospitality as a place to work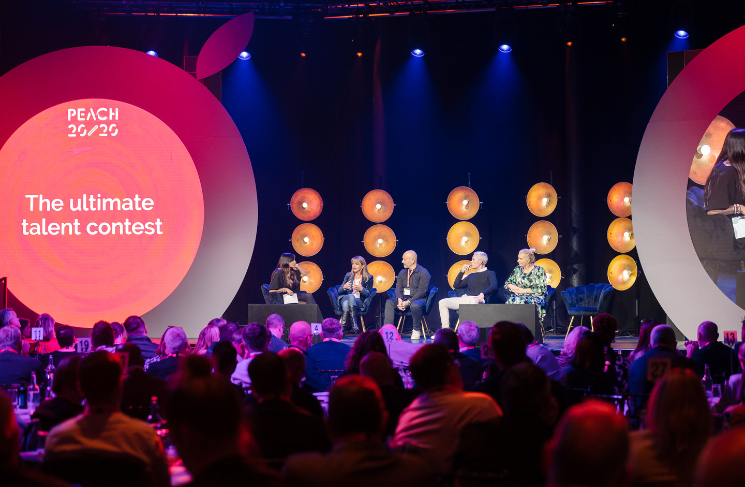 How can hospitality recruit and retain the best people? An 'Ultimate Talent Contest' panel session at the Peach 20/20 Conference explored ways to create compelling working environments and keep teams motivated and happy. Here are ten of the takeaways for all employers to think about.
1. Provide a purpose
Nisha Katona, founder and CEO of Mowgli and chair of the Conference panel, said everyone needs a sense of direction in their work. "People in any job want to feel purposeful, nourished and fulfilled, so you have to have an overarching aim." Holly Addison, co-founder of Plan B, agreed. "People have really reconnected with the why. They're asking: why am I doing this? Why do I get out of bed every day and do this? There has to be a sense of purpose."
2. Be flexible
People found new and more flexible ways of working during the on-off lockdowns of 2020 and 2021—and they won't give that freedom up easily. "There's a [new] sense of ownership that people have over their working lives…. They come to work when they want to and how they want to." Of course, full flexibility just isn't possible in a sector like hospitality. But employers that can find ways to accommodate people's new-look lifestyles and priorities will have a head start in recruitment.
3. Learn from COVID communications
Long lockdowns led employers to find new ways to communicate with teams. Those new habits should continue, argued Jon Knight, managing director of leisure and concessions at The Restaurant Group. "It was all about communication… building those relationships with all of your team and making sure you talk regularly about the good, bad or ugly... and coming out of COVID, they want you to continue doing it," he said. "You've got to listen and give them the opportunity to share with you how to move the business forward."
4. Hire on attitude
At the Soho House group, global HR director Keniro Miller has found that the key to good retention is hiring smart and finding people with personalities that are suited to the sector. "It's getting the right people coming into the right business for the right reasons," he said. "We look for the soft skill set… then we can train the technical skill as well."
5. Set out the career path
Hospitality needs to get much better at showing people that it's a great place to build a long-term career, said Keniro Miller. "We have a very clear pathway so when people start [work at Soho House] they know how they can progress—that's hugely important." But career development should be flexible too. "It's also important to not be too rigid. We ask people to tell us where they want to go, and show that we'll find a way to get them there." Nisha Katona agreed this is a priority: "People want to see where their career's going… to wake up and think they can actually get somewhere."
6. Show your social side
Many young adults entering the workplace need to feel that their work rewards not just themselves but others. "People who come into the business want to be outward-facing—to feel as though they're working for something that makes a difference," said Nisha Katona. At Mowgli, that means appointing 'charity champions' and 'sustainability sergeants' in each restaurant. "Sustainability comes up time and time again [in staff conversations]… we pick small aims to make progress, like moving to sustainable palm oils."
7. Understand the post-COVID generation
Hospitality needs to appreciate the unique needs of people who are entering the labour market after two years of COVID upheaval, said Marta Pogroszewska, managing director of Gail's. "A new generation is coming to work for us, and we need to learn how to get the best out of them. We have to remember that they've spent two years doing things from home… I think they need a more personal touch, and a proper connection with the people who are making decisions."
8. Think about the benefits
As in any industry, pay is usually the biggest influence on prospective workers. But employers shouldn't underestimate the advantages of a good benefits package. Keniro Miller said the key here is to be flexible. Pension contributions, holidays, health care, childcare and discounts are all useful, but different people value different things. "You can never do one-size-fits all. It's having a really good, flexible benefits model that fits the cultural and generational requirements of the workforce."
9. Use tech well
From recruitment to training to shift planning to personalised communications, technology can make employee engagement much better. But if it makes processes more convoluted, or puts up barriers to communications, it can be a hindrance—so choose tech platforms and strategies wisely. "It's easy to say you've got to have a tech strategy, but what does that really mean?" asked Jon Knight. "It's about making sure we use [platforms] to become more productive—that's what we need to focus on."
10. Collaborate
Speakers agreed that the industry needs to update perceptions of itself as a place to work through collaborative campaigns like Hospitality Rising, which is now supported by more than 300 operators and a fund of more than £1m. "It's helping to change the image of the sector," said Holly Addison—and it's particularly valuable in showing that it's not just a stop-gap option. "If someone does a fantastic job for you for three years and you coach and train them, they might go on to another organisation—but at least we keep them in our sector. That's got to be better than losing them to banking."

Peach 20/20 thanks its headline partners: CGA by Nielsen IQ, Diageo, Fourth, Nutritics, Vita Mojo, Wireless Social and Zonal; premium partners Access and Harri; and event partners BrewDog, Budvar UK, Chapman Ventilation, Coca-Cola, CPL Learning, Freeths, Lucky Saint, Mr Yum and Yumpingo. Charity partners are Only A Pavement Away and the Tim Bacon Foundation, and association partners are Plan B and UKHospitality.