05 Nov 2021
Ten things to know about no-shows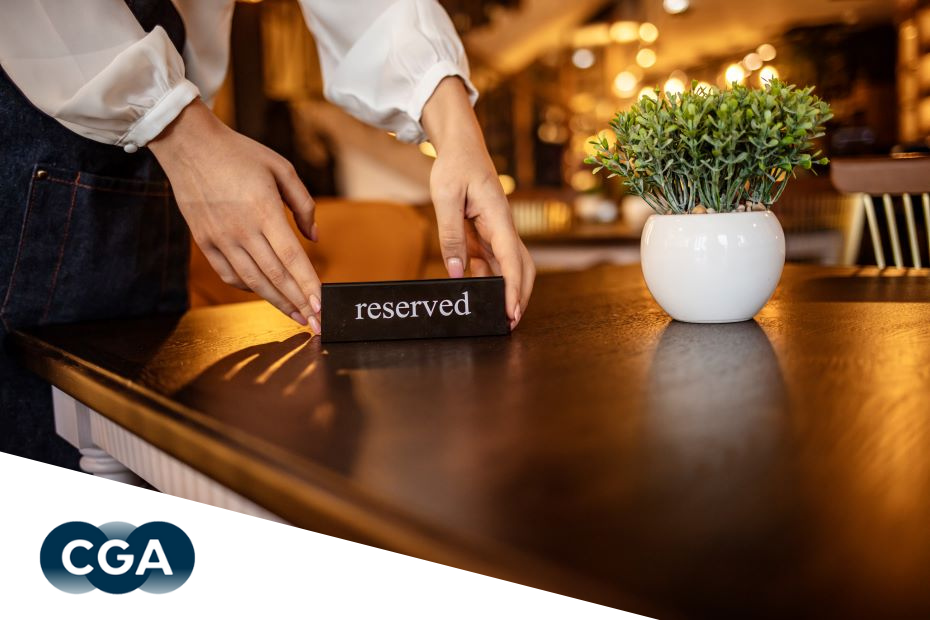 Originally created for Zonal
A recent 'No-shows, no more' webinar from CGA, Zonal and Bums on Seats tackled the hot issue of guests failing to fulfil reservations, following exposure of the problem in the latest GO Technology report and the new #ShowUpForHospitality campaign.
Here are some of the key takeaways.
No-shows are a multi-billion problem
Research for the GO Technology report suggests lost sales from no-shows cost the hospitality industry £17.6bn a year in sales, with one in seven (14%) consumers admitting to not turning up for a reservation. The COVID-19 pandemic—which wiped £100bn off hospitality's sales in the year to June 2021, according to the UKHospitality Quarterly Tracker—has made 41% of consumers less likely to no-show, but 12% say they are doing it more—perhaps because they are putting more effort into planning evenings out, and because there is a greater premium on space.
Young people and families are a particular problem
CGA data shows that nearly a third (30%) of 18 to 24 year-olds have missed reservations without cancelling—more twice the national average of 14%. A quarter (26%) of 25 to 34 year-olds are guilty of this too, and families over-index as well—possibly because they have busy lives and plans can change at short notice.
The GO Technology report reveals a wide variety of reasons for no-shows, led by changes in plans (19%), someone else in a group cancelling (19%) and COVID-19-related symptoms for someone (18%). Other excuses are hard to plan for, like the weather putting people off (14%), or a venue turning out to be too expensive (15%). But other reasons come with potential mitigations for operators, like people forgetting about a booking (16%) or not feeling reassured enough about safety to visit (17%). "We can't mitigate all of this, but there are steps that can be taken," said CGA's director – hospitality operators and food, EMEA Karl Chessell at the webinar.
Reminders are the most obvious solution
Webinar guests agreed that reminding people about reservations is the first step to reducing no-shows. Of consumers who forgot about a booking, more than a third (36%) would be more likely to show up if the venue reminded them. The timing of reminders is important, and just over a quarter (28%) would like to be reminded on the day, while half prefer a few days in advance (38%) or a week ahead (11%). "Restaurants that reconfirm all their bookings have a far lower no-show rate than ones that don't," said Amber Staynings, CEO of Bums on Seats. Establishing automated workflows and timelines can make reminders routine and easy, added Henri Jooste, strategic product manager at Zonal: "It's just good business process."
Venues need to make it easy to cancel
The volume of no-shows can also be reduced if operators make it simple and fast to cancel. Understanding how people want to do this is crucial: GO Technology shows more than half (58%) now prefer to cancel digitally—either via websites (21%), text messages (19%), apps (10%) and email (7%)—so tech must be optimised to make the job easy. It's also important to remember that two in five (39%) still prefer to cancel a booking by phoning. "It's all about giving people choice," said Staynings.
Deposits can be effective, but they're not for everyone
Deposits have been touted as a possible solution for some time now, and just over half (55%) of consumers say they would be willing to pay one if they didn't turn up for a booking. But they remain a divisive issue, with other people averse. The solution is to use deposits sparing, and understanding things like occasionality and local demographics. People will also be more open to leaving deposits on busy days or in big groups than on everyday occasions. "If you put blanket deposits across your business you'll lose sales—you have to use them tactically," said Staynings. The deposit issue isn't something that can be tackled in isolation, Chessell agreed. "There's a risk to being the first person to do it and I can understand why operators are resistant."
Many operators have been hesitant about over-booking venues, but the crisis in no-shows means it might be time to rethink that. Businesses need to analyse their data to see when and by how much they might over-book, Jooste said. "We don't want to stop people from booking… [so we need to] take more so we can compensate for those that are lost." This comes with a risk that booked guests may occasionally have to wait, but that can be overcome, Staynings said. "Consumers might get shocked at first, but if it's something we did as an industry as a whole then people would get used to it." Staff could be well trained in dealing with over-booking too.
Higher loyalty can lower no-shows
Beyond reminders, cancellations, deposits and over-booking, operators have many opportunities to build guests' loyalty and make them less likely to miss their visit. "There's lots we can do to make guests feel special and give them a good experience… and make them feel more loyal about coming into our venues," Jooste said. Restaurants could learn a thing or two from retail on this, Staynings added. "Retail's been doing it well for years, but hospitality hasn't… it's really new for our sector… about 70% of any sale is about how people feel about you, and that's what brands need to be working on to get loyalty.
Improvements start with awareness
The Show Up For Hospitality campaign has started to open people's eyes to the consequences of no-shows, Chessell said. "There's a lot of love for hospitality out there, and people recognise to an extent the hit that [no-shows] have had—though clearly there's some way to go," he said. "Awareness campaigns are so important, because once people are fully aware of the impact they're less likely to no-show."
This is the moment to act together
No-shows have always been around, and they always will—but this feels like a good time for the industry to take concerted action on the issue. "People are responsive to doing new things [at the moment] and this is an opportunity… but it's going to take a long time to fix and it's going to be a collaborative effort," said Staynings.
To watch the 'No-shows, no more' webinar from CGA, Zonal and Bums on Seats, click here. To read the latest GO Technology report in full, click here. For more about the campaign, visit Show Up For Hospitality and follow the #ShowUpForHospitality hashtag on social media.

DOWNLOAD THE REPORT HERE

***
We're proud to include Zonal and CGA as headline partners for this year's Peach 20/20 Conference and Hero & Icon Awards.