20 Jul 2021
Ten takeaways from this month's Peach 20/20 Atlantic Club webinar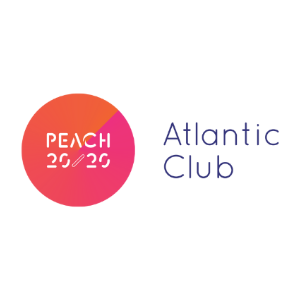 'Big ideas for ambitious brands', a Peach 20/20 Atlantic Club webinar hosted by Peter Martin, brought together industry experts to explore the future for the On Premise in the US, UK and beyond. Here are ten of the top messages from the event.
1. Sales and confidence are returning
CGA research shows the US On Premise has shrunk by 7.9% in outlet terms since March 2020—but also that sales are now returning to pre-pandemic levels. Three quarters (77%) of consumers are now spending as much or more as they did before COVID, and average check values have jumped from $36 to $43 in two years. Business confidence is coming back too, with 76% of operators feeling optimistic about the eating and drinking out market over the next 12 months. "It's a hugely promising story for the On Premise… there's a real resilience in the industry," said CGA's Alexandra Martin.
2. Occasions have shifted
CGA data at the webinar showed a variety of important COVID-related shifts in consumers' interaction with restaurants, pubs and bars. They include soaring delivery and takeaway sales—with alcohol an increasingly important part of the mix—and a move towards more low key occasions. Family visits remain the most common occasion in the US On Premise, while the number of people preferring to meet in small groups (81%) is four times higher than those preferring big groups (19%). Consumers are also much more confidet in open-air venues, and moving their meals and drinks out to quieter days of the week and dayparts—though bigger, more celebratory occasions will increase their share in due course.
3. Returning drinkers want familiarity and cocktails
Two of the big drinks trends emerging in the post-lockdown market are a return to tried-and-trusted brands and a thirst for cocktails. CGA's BeverageTrak shows consumers have ordered 21% fewer brands in 2021 than in 2019, while 45% have only chosen brands they are familiar with and trust since COVID—though trial of new products is likely to increase as people settle into new habits. The cocktail market has been thriving too, as consumers seek drinks they couldn't easily recreate at home during lockdowns. Closures have also made people more familiar with packaged, pre-mixed cocktails, which opens the door to greater out-of-home sales too. "There's definitely big On Premise potential… there's been a clear consumer preference shift towards convenience," said CGA's Andrew Hummel.
4. People want experiences
After the isolation of the last 16 months, many consumers now want to reconnect with friends and family, said Rae Phillips-Luther, chief brand officer of FB Society, in a webinar panel session. Venues that can enable those special, celebratory, multi-sensory occasions will be well placed in the months ahead. "People really want to connect and belong… the experience is more important than ever."
5. The staffing crisis makes engagement essential
"Staffing is possibly the biggest issue facing the industry at the moment," said Peter Martin at the webinar. Luke Fryer of Harri said labour shortages were partly the result of COVID, with many hospitality workers either returning home or being made redundant and finding new jobs in growing sectors like essential retail and the gig economy. "As we pushed, these other industries pulled," he said. To attract new people and keep good ones, businesses must focus on the things that really matter to staff, like good engagement, predictable schedules and professional development. "They're things we've all aspired to for a long time—but now they're mission critical."
6. Brand culture matters
Other webinar guests stressed the importance of motivated teams. "You can't have a good customer experience with a rubbish employee experience," said Andrew Stothert of Brand Vista. Businesses need to empower their teams and communicate their values, he suggested. "You need a clear view of who you are, what you stand for and why people should want to get up in the morning and work for you." Ceri Gott of Hawksmoor, one of the most respected employers in the industry, said building a strong company culture was "a lot of hard work"—but worth it. Staying true to brand values and altering perceptions of hospitality jobs are both important, she added. "People want security and development, and those are the sort of things we offer."
7. Hospitality can provide 'retailtainment'
Sarah Jenkinson of Harrison ran through some big common trends in hospitality in the UK and US, including the rise of virtual kitchens, gamification in marketing and the emergence of 'retailtainment'—a hybrid of retail and entertainment that hospitality is well placed to deliver. All brands will need to stay nimble in the years ahead, she added. "Agility is vital—a good brand needs to adapt to market conditions swiftly."
8. Drive-throughs are on the rise
The long-established drive-through culture of the US is increasingly engrained in the UK too, Jenkinson said. Leon's Glenn Edwards told the webinar that his brand is well placed to take advantage, with a first drive-through site planned for just off the M62. "It feels a natural place for us to be—where people need us the most."
9. Tech has become integral—but people still want interaction
CGA's research has shown how the pandemic has thrust technology to the front of both operators' and consumers' minds. Simon Potts of The Alchemist said that while some digital tools, like paying by phone at tables, are here to stay, consumers don't want tech to dominate their experiences in hospitality. "We're treading carefully… there's a danger of just using technology for technology's sake," he said.
10. Customer understanding is essential
Consumers' habits and priorities have been reshaped by the pandemic, and all brands need to work out how to respond. "It's more important than ever to get that deep understanding of consumers… to understand the path of purchase for each consumer group," said Alexandra Martin. Suppliers have a big role to play here: when operators were asked how they could support them, the top response was through market insights and thought leadership.
The 'Big ideas for ambitious brands' webinar was hosted by Peach 20/20 Atlantic Club in partnership with CGA, Harri and Harrison.

Watch a full replay of the webinar here