13 Apr 2022
Street Food Gets Serious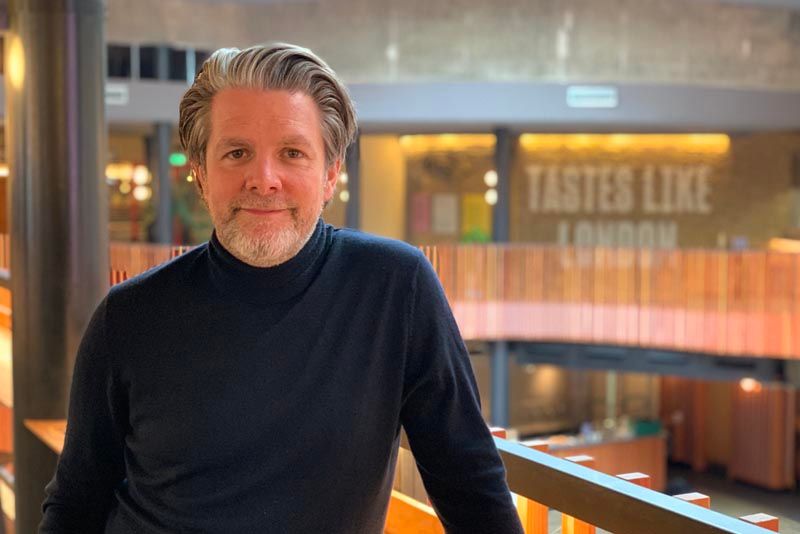 Simon Mitchell of street food pioneer KERB is the latest guest on Peach 20/20's Start-up Hub Podcast. He joined Peter Martin to talk about incubating new talent, moving beyond food halls, and big issues like delivery and pricing. Here are five of the top takeaways from the chat.
1 'KERB is a stepping-stone'
KERB started out as a street food collective, but it now has a whole ecosystem for new operators, including workshops, incubator programmes and test kitchens. "The idea is that it's a stepping-stone to someone's first seven-days-a-week operation… Opening a restaurant is risky, so this is a great way of testing the water and seeing if it works for you," Mitchell says.
2 'Seven Dials was a game-changer'
KERB cut its teeth with short-term leases, but opening a permanent hall at London's Seven Dials in 2019 gave it space to put down roots. "We needed a base for KERB that would give us some security, and a platform to jump off," Mitchell says. The hall has emerged confidently from the turmoil of COVID and is trading better than ever now. "We're really proud of it—having such a high-profile destination for our business has been a game-changer for us."
3 'The NT will be one of London's most exciting food and drink destinations'
Contract catering is another KERB spin-off, and a joint venture with Levy, part of the Compass group, has opened up opportunities to tender for major venues—including a successful bid to curate food and drink at the National Theatre. "To take on something that scale… is a big ask—and it was a big leap of faith for them too," Mitchell says. "But we're there, and we're incredibly proud of it. By the end of this year, when we've got everything open, it's going to be one of the most exciting food and drink destinations in London."
4 'Be wary of delivery'
KERB has deliberately swerved the delivery market. That's partly because the logistics and quality are hard to handle, but also because it doesn't want to diminish the in-person experience. "We're a hospitality company—we were set up because of the interaction between vendor and customer," Mitchell says. He also warns that delivery platforms are hoovering up valuable data and taking hefty commissions and may one day decide to pivot to run restaurants too. "I understand why restaurants work with these delivery companies, particularly during the pandemic, when everyone was at home… but I think everyone needs to be very wary."
5 'We need to educate customers that good food costs more'
Like all hospitality businesses, KERB is focused on sustainability, sourcing and other ethical concerns at the moment. While it's playing its part, Mitchell says consumers as well as operators need to rethink their priorities. "We've made food too cheap and too convenient for too long… we need to value it better, appreciate where it comes from, and appreciate the price of it. And we need to educate customers that good, well-sourced food is going to cost more now."
***
You can listen to the Start-up Hub Podcast in full on Apple Podcasts, Spotify, Google and Amazon, and stream direct here
The Start-up Hub Podcast is sponsored by Bird & Bird, CGA and Zonal.