28 Jun 2023
Six numbers to know: Peter Martin's market take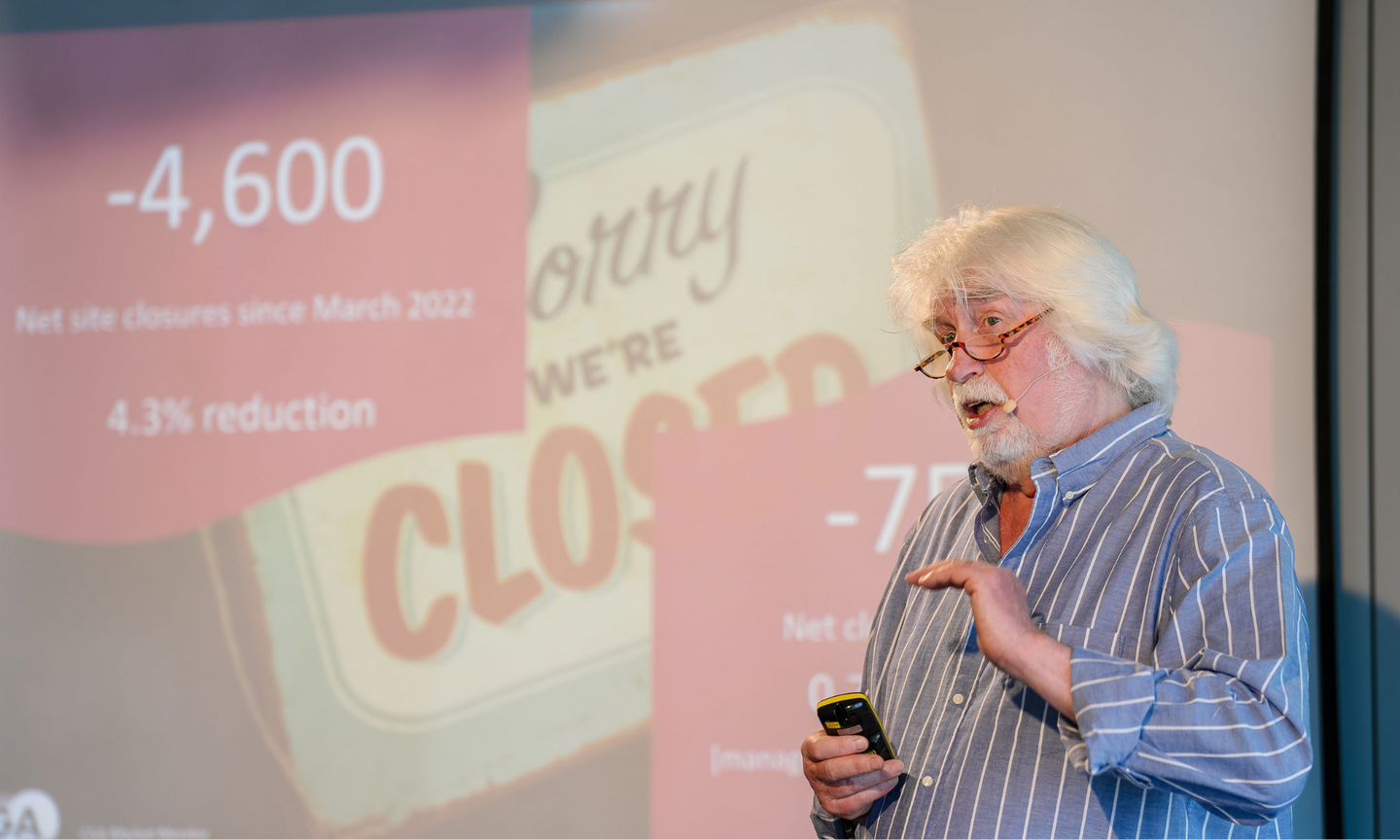 Peter Martin kicked off Peach 20/20's Peach @ The Beach event with his view on the state of play in hospitality. Here are six of his key insights into a sector that's offering opportunity, challenge and change.
-4,593
The latest Hospitality Market Monitor from CGA by NIQ and AlixPartners shows Britain lost a net total of 4,593 licensed premises in the year to March 2023 - 4.3% of its stock. But the pace of closures has slowed to just 0.7% in the first quarter of this year, and the managed pub and restaurant sector is now actually in modest growth. With the bulk of closures coming from independent businesses, and new openings driven largely by multi-site brands, many relatively new to the market, the advantages of scale are obvious. "We're in an asymmetric market… Having critical mass and built-in financial resilience is critical," Peter Martin said.
+5.6%
More reasons to be positive can be found in the Coffer CGA Business Tracker, which shows like-for-like sales up 5.6% across restaurant, pub and bar groups in May, compared to the same month last year. The one negative was the late-night market, which was seeing a decline in trading. Despite the cost of living crisis, consumers generally remained keen to eat and drink out when they can. "People hate being miserable—they want to come out and we're seeing a good level of demand."
54%
Businesses are bullish too. The latest Business Confidence Survey from CGA and Fourth shows more than half (54%) of leaders feel confident about prospects for their business over the next 12 months - up by seven percentage points from three months ago. "Optimism is growing," said Martin. But it's important to remember that confidence isn't equal, with independent businesses particularly anxious, while more hikes in interest rates are likely to hit consumer and business confidence. With an estimated three million households expected to see their current mortgage deals up for renegotiation in the next 18 months, hospitality companies will need to better understand how that will affect their customer base.
+1.2%
A deep dive into CGA's trading data uncovers subtle but significant trends - like the steady recovery of weekend drinks sales, with Saturday's share of weekly drinks sales up by 1.2 percentage points from three years ago. City centres' share of Saturday food sales is up too. "The big weekend is back," said Peter Martin. Investing in actionable insights like these is the first step to protecting sales. "Get data on your profitable customers and communicate to them."
77%
Earlier this year, more than three quarters (77%) of leaders told CGA's Business Leaders' Survey with Fourth that value for money would be a key driver for consumers in 2023. It was a jump of 25 percentage points year-on-year. Disposable incomes were being squeezed, but there was a danger in concentrating just on price. Consumers are demanding value for experience too, which puts businesses under pressure to deliver consistently high quality experiences, even while their own costs are soaring. "No-one is going out for a worst time… they still expect the same level of service," said Martin.
70%
While staying laser focused on value, hospitality also needs to keep a close eye on hot topics like sustainability. New research from CGA and Nutritics shows 70% of British consumers actively try to lead an environmentally friendly lifestyle, while 34% are ready to spend more on brands with strong sustainability credentials. Using renewal energy and reducing food miles—including via the Back British Farming campaign—are two ways to show those credentials. Good practice can improve staff recruitment and retention too. "Some say consumers don't care about sustainability anymore- but they do," Peter Martin said. "It's not going away; it's only going to grow."
Peach @ The Beach was supported by event partners Airship, Bird & Bird, Casual Dining, CGA by NIQ, COREcruitment, Lucky Saint, Square, Toast, Toggle, Wireless Social and Zonal.

Our next conference and networking event takes place on 14th November at the Roundhouse, London. If you would like to join us, you can request an invite here.