How to scale up: Seven lessons from ambitious brands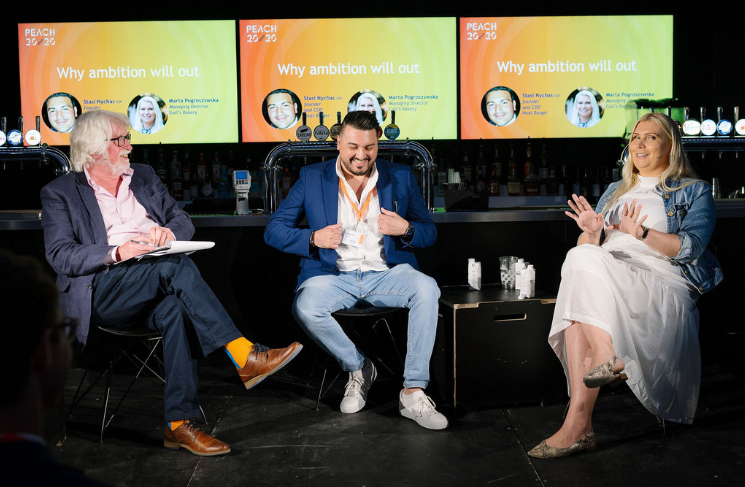 Neat Burger and Gail's Bakery are two of the UK's fastest growing brands, and their leaders shared the secrets of their success at the Peach 20/20 Summer Meet Up. Here are seven top takeaways from their session.
1. Focus on what you're good at
Gail's is rolling out rapidly, and is on track to open around 25 new sites this year alone. But managing director Marta Pogroszewska said the business wouldn't get ahead of itself. "What gives us the wings to grow is sticking to what we know how to do well. We focus on baking great food, making great coffee, developing amazing people and building beautiful places. When we think we can do all that, we do it."
2. Get the right investors
Co-founder and COO Stasi Nychas said Neat Burger has benefited from the backing of A-listers like Lewis Hamilton and Leonardo DiCaprio. As well as bringing cash and attracting other investors, they provide money-can't-buy publicity. "Lewis has been around since day one—he's very hands-on… It [a high-profile investor] isn't a golden bullet for everything, but it's great when we launch a new product." Even if you don't have access to celebs, there's a big role for smart investors—like Luke Johnson at Gail's. "When we review properties, Luke knows every single street," said Pogroszewska. New investment from Bain Capital has brought more knowledge in key areas. "It's priceless to have people with this much experience."
3. Understand high expectations
Growing brands need to exceed people's demands in areas like quality and value—and after two years of on-off lockdowns, these are higher than ever. "The biggest change in the market [since COVID] is in expectations—of employees and customers… You really need to listen to them," said Pogroszewska.
4. It pays to hit global markets early
Neat Burger is a relatively young business to be thinking internationally, but the global wave of interest in plant-based foods is carrying the brand overseas—initially in the US and then under franchise in Europe and the Middle East. "It's great to be one of the first [vegan fast casual] brands in cities like New York, and it'll give us a lot of trajectory to growth… and if you can prove yourself in the US then your multiples on exit are obviously going to be higher," Nychas said.
5. Nail your data
Building strong systems and data is the key to Neat Burger's moves into multiple markets at the same time. "It's about having your tech stack built and being able to adapt," said Nychas. "We're still new and testing so it's a learning curve, but with a good stack we can change things in each market."
6. Balance digital and physical
While digital solutions are important, they shouldn't be at the expense of human-focused tasks. "Tech informs our decisions and can really help us grow and be better," said Pogroszewska. "But it has to be about delivering really high quality and high consistency food…. Getting the balance between what can be done through technology and what can be done by hand is very, very important."
7. Prove your commitment to sustainability
Consumers are more aware of eco issues than ever before, so growing brands need to prove they're tackling their carbon footprint. "Sustainably is in our ethos… and it's very important that we show it to our customers," said Nychas. And it's not just customers who want commitment. "It's very important to the teams as well—it's one of the top reasons for being proud of working with Gail's," Pogroszewska added. "Your brand is built on sustainability, and we're trying to lead on it."
Click here for more insights from the Peach 20/20 Summer Meet Up.

Download Peter Martin's Summer Meet Up dec here. It's full of industry data and insight.

And you can download Bird & Bird's deck on franchising and IP here.