11 Oct 2021
Redefining Staff Retention: A Discovery of the Employee Experience in the New Normal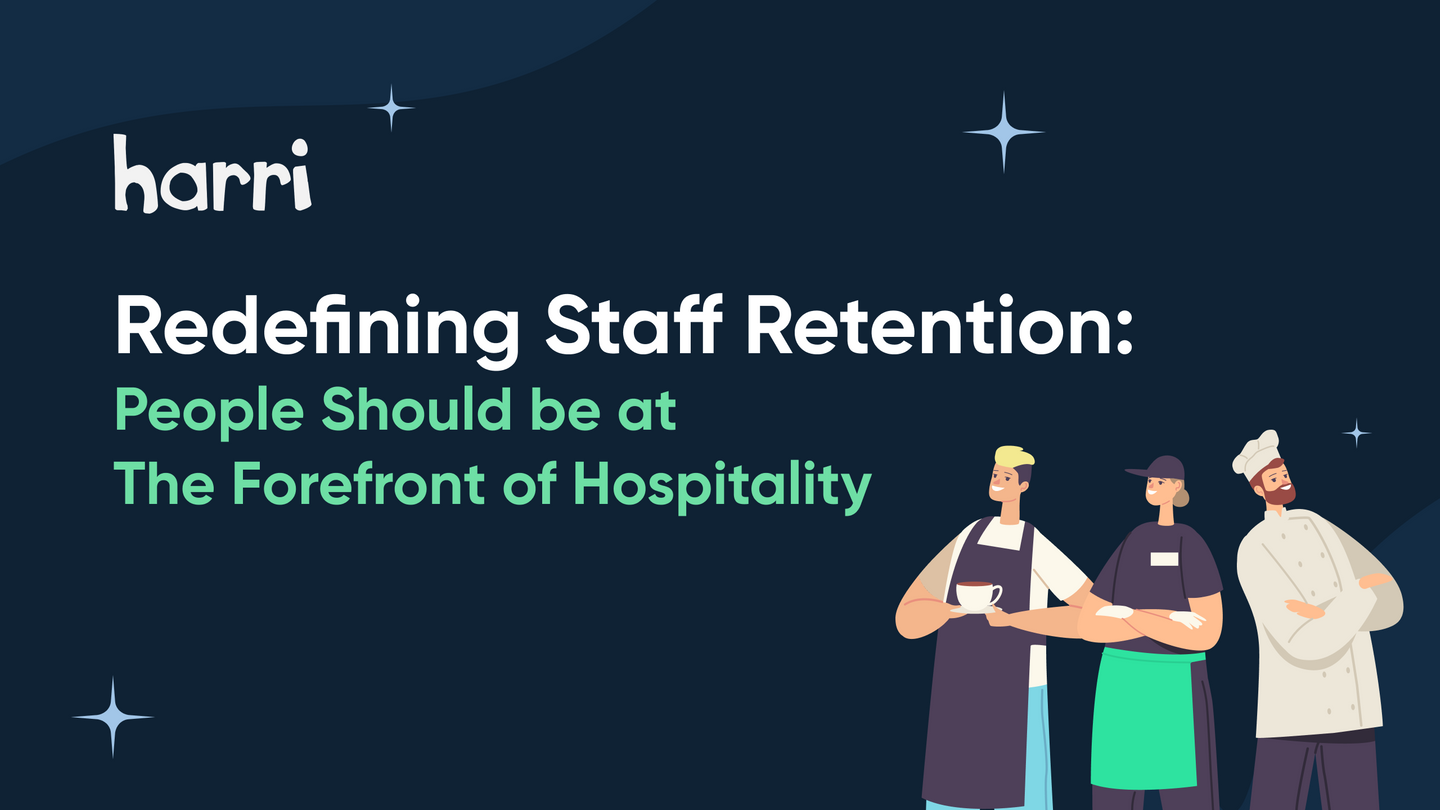 People Should Be at the Forefront of Hospitality
In Harri's recent event series, Redefining Staff Retention, this session encompassed operators from hotels to talk about the importance of retaining staff during this turbulent period of reopening and returning to some sort of normality in today's society.

In these sessions, operators said they are having to approach their retention strategies with a focus on balancing the needs of employees versus the balancing of books from a financial perspective.
Employee Experience is Everything
Paul Spencer, Operations Director at Edyn said, "The reality is that Europe is suffering from exactly the same as what we're suffering from. Staff shortages are part of the bigger problem they all have there." He goes on to say, "This isn't the Brexit issue which is the transitioning and movement of staff; the core of the issue is that we are flagging behind as an industry."
It's been said many times before: hospitality needs to change. It needs to adapt, modernise, and catch up with the rest of the business world. In an industry where the people are at the forefront; we need to ensure that those who are on the frontlines are being looked after.
This has been exacerbated by the pandemic, during which servers and chefs were thrown back onto the "frontline" and forced to bear the brunt of face-to-face contact in an extremely precarious time before widespread vaccination. While the rules have recently changed regarding those who have received vaccinations, with many of the service industry being under 30, there is a significant delay in getting everyone in hospitality ready to work without restrictions.
Chris Fletcher, Co-Founder EXP101 said, "Go back two years and the boardroom were discussing growth and profit; now it's very much people and retention on the agenda."
What are Businesses Doing to Put People at the Forefront?
Businesses are already waking up to the fact that people are their most valuable resource. The amount of effort, time and money that goes into recruiting new talent—especially in the middle of a labour crisis—far outweighs the cost of upskilling and investing in current talent. It is more cost-effective to look inwards and invest in the teams that are already working for you.
"We are bringing people in to train them in every department," said David Daniels-Ekarte, Group Head of F&B at The Club Company "They can touch into the accounts department, marketing department which gives them a far more rounded view of the business." He goes on to say, "This helps us retain our people in the industry and helps our people understand what other paths there are to take."
The issue of wellbeing and mental health has also, rightfully, come to the fore amidst conversations about the pandemic. Aside from the issues of overworking, burnout and stress, the pandemic has brought a whole host of new concerns and uncertainties into the collective psyche. Businesses are realising that people need to be treated with sensitivity and be supported by their employers - otherwise employees are left feeling undervalued, overworked and unappreciated.
Andrew Coney, General Manager at The Hari said, "Take mental wellbeing really seriously. Read about it and explore it. Let's make the environment and culture exciting and understand how people really tick."
Why is it Important to Put People at the Forefront?
In times such as these, hospitality cannot be lagging behind. Yes, traditionally we work long, hard, unsociable hours that don't suit people with families or those who want the normal 9-5. But hospitality is proving to be more inclusive in terms of what it can offer employees and more varied in terms of job prospects than ever before - and this is shown by how much they are valuing their people.
Craig Cunningham, Director of F&B at The Student Hotel said, "My advice would be, keep going, keep moving and keep evolving. Success is never final especially where people are concerned."
It's been a long time coming, and the pandemic; and to some extent the effects of Brexit, has heightened the issues which have been bubbling under the surface for a long time. But the hospitality industry has woken up to the fact that its people both are the face and the driving force of its success, and they should be appreciated as such. Your workers are humans and need to be treated as such - and after the pandemic, it's never been more important to ensure that your business places your people at the front and centre of your priorities.

To watch the rest of this compelling debate from the Harri event series, click here