15 Jun 2022
Politics and aspirations: takeaways from the UKH conference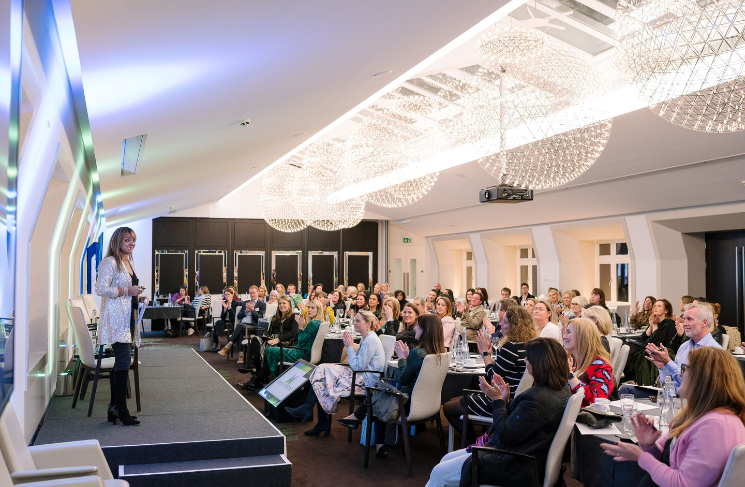 Supply chain challenges, food security, investment, workforce skills and hospitality's role in levelling-up were all on the agenda at UK Hospitality's summer conference in London in May.
How the sector would and should react and how much Government assistance it would need and get were central themes, with speakers from across the industry spectrum providing varying degrees of optimism and caution.
Peach 20/20 founder Peter Martin and Fleet's Street's CEO Mark Stretton were the day's co-chairs. Here are some of the key takeaways:
Levelling up leadership
There can be no economic contribution without a hospitality recovery, argued UK Hospitality's CEO Kate Nicholls. UKH would ensure that hospitality was at the top table with Government – whoever was leading it. With the right conditions hospitality would thrive, to exceed growth across the country, she said. But there were three key priorities to take to Government: tackling the cost of doing business crisis, unleashing growth through a liberalised regulatory regime and creating a supportive tax regime.
Hospitality is recovering
Data from CGA and STR showed a clear move to earlier visits to hospitality, with a growth in numbers pre-5pm, offset by fewer people going out after 5pm. There has also been a shift in the days when people are going out, with Thursdays thriving and Fridays struggling. London trading is still lagging behind other towns and cities. Consumer behaviours have changed and cost pressures pose a threat, the conference heard.
Demand for hotels was closely correlated to GDP. Post-Covid a gap had opened up but that was starting to close. The UK's hotel occupancy was ahead of European rivals, and average rates were above 2019 levels. The UK was investing far more than other European nations in terms of new hotel rooms added to the hotel stock.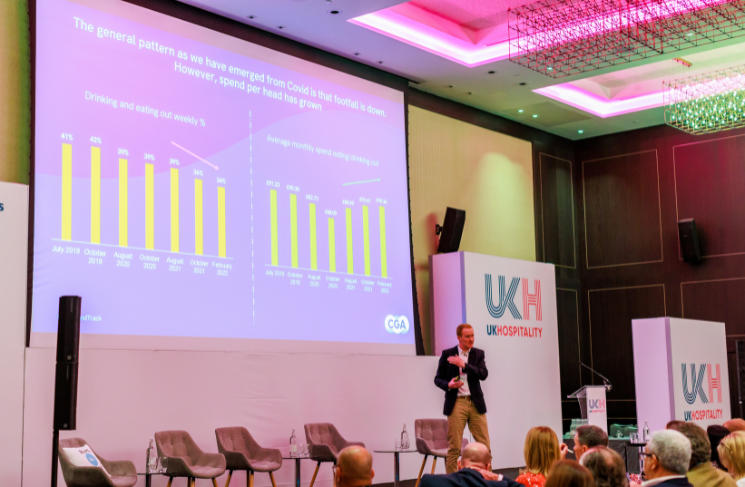 Where's the investment?
A bleak outlook for the UK economy in the next year or two came from sector Luke Johnson, with the cost of living crisis forcing consumers to cut back. But with that would come creative destruction, he said. There were more optimistic views elsewhere, including from Barclays, with evidence of success across parts of the sector meaning that banks were willing to lend. But UKH's view was that debt remained a major issue and Government must do more to restore faith in the hospitality sector after restrictions of last two years and look to create tax breaks to stimulate investment.
What price a healthy and sustainable food chain?
NFU director general Terry Jones, Food & Drink Federation chief executive Karen Betts and Bidfood CEO Andrew Selley brought outside perspectives to the food chain discussion. But all agreed that cost pressures were the central issue across the food chain, and that supply challenges will be with us for a while, with the Ukraine conflict adding to the pressure.
Agriculture had experienced unprecedented pressures, but farmers would step up if they received the right Government support and understanding, especially around the long term nature and forecasting of farming, the conference heard. Sustainability and healthier diets were key issues, and the food industry was on the same page as Government. But legislation needed to be right - targeted, practical, effective, and consistent. The Food and Drink Sector Council and F4 Group had helped Government understand the farm to fork and the integrated nature of the supply chain – and the fact that these elements couldn't be treated in isolation. Trade bodies could now bring to bear common solutions to common issues with Government.
But Government needs to lose the adversarial approach to small food businesses, and deregulate and free up regulations. It needed to find the right balance between importing and exporting. And all agreed the need for UK Government to prioritise food and drink trade policies as part of trade deals.
Food price pressures would remain for a year or more, while raw material prices might come down before then, with increases baked into food production (and therefore prices) until 2024. The big watch out would be for key products disappearing rather than just the price increasing. The main issue for hospitality is it is at the sharp end and therefore would feel the pain a lot longer than the top of the chain.
A reminder that leadership and teamwork matter when under pressure
An inspirational speech from Mandy Hickson, former RAF fast jet pilot and one of only three women in that role, won the biggest applause of the day. Drawing on her service experience, she focused on the benefits of teamwork and avoiding tunnel vision, plus the need to take a step back and consider different approaches. Focus on what you can control, and ignore those that you can't influence, to deliver optimum results, she stressed. It was critical to give your team members a sense of purpose, to empower them and buy them into the ethos of your organisation.
Skills for the future
Employment issues presented huge challenges across the board, the conference heard. Operators agreed that is was "very bad out there". It was a systemic issue with companies not having the numbers of people to operate hospitality businesses. "We seem to be in a dire cycle, massively challenging environment," said one panellist.
What used to be issues limited to specific roles such as chefs are now being experienced in every role. Solving this was the fundamental challenge for the sector.
The challenges are the same for small and larger businesses - to find good quality staff.
According to UK Hospitality two in 10 jobs are unfilled and there will be a two year hiatus in the talent pipeline due to Covid. UKH's workforce strategy is its message to Government that the industry will do its part and keep its our pledges, but from a Government side the industry needs to make it easier for hospitality. Immigration could be a bridge to help, with free trade agreements in place and the need for the three-year working visa and youth mobility scheme to be in place.
What can Government do in next 12 months? It needs political will to remove the immigration barriers and give the market apprenticeship funds to invest and fund our workforce was the central call. Hospitality is agile, entrepreneurial and can get on and do it.
Perception of the sector to new workforce was going to be key. Setting out 'what is hospitality' and the opportunities within would be vital. The industry needs to be brilliant at training, communicating, showing what it does for its staff. Need to ensure our proposition is solid, and show the range of paths within our industry.
Creating pride in place
Investment would be key to keeping hospitality businesses part of the high street and community environment, and that meant investing in people as well as bricks and mortar, the conference heard. Support was also crucial to this with local policies like late night czars and local mayors able to paly an important role.
A great characteristic of the sector was the will to work together across businesses and sub-sectors. This could be harnessed to focus in on the key areas that will really make a difference. Playing a role in national, regional and local pride was something the industry was really good at and this could be harnessed even more effectively, the panel of IHG's Karin Sheppard, Hawksmoor's Will Beckett and Stonegate's Suzanne Baker agreed.