22 Sep 2022
Peach 20/20 unveils shortlists for the 2022 Hero & Icon Awards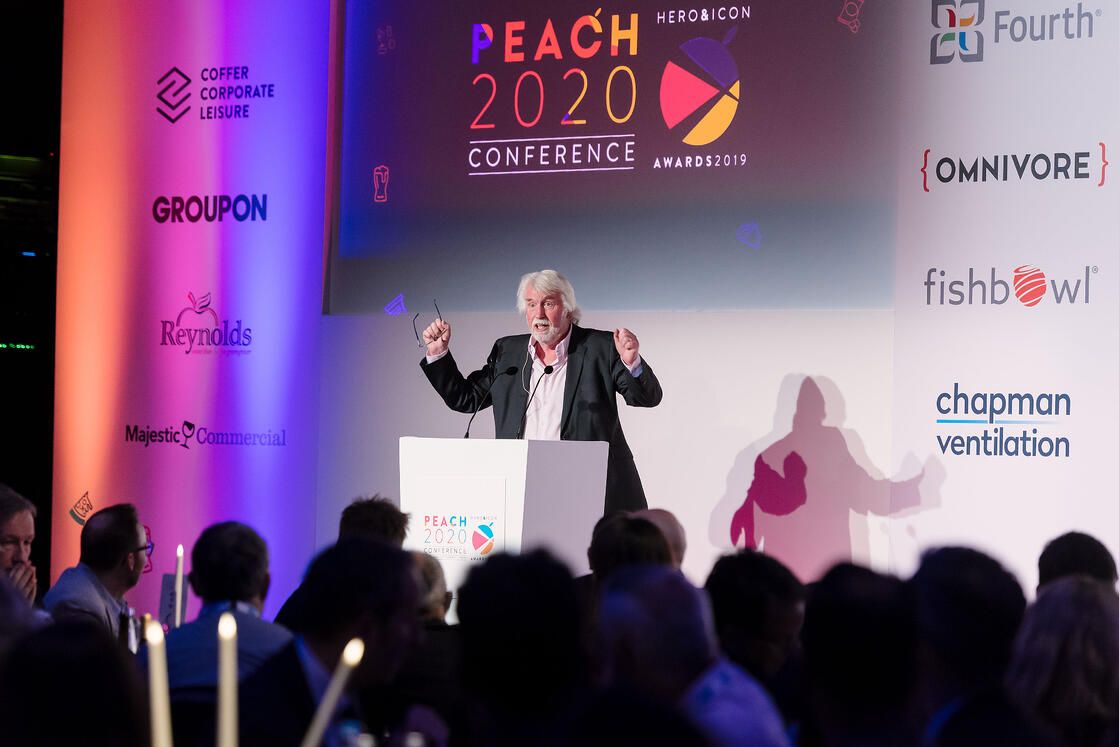 Prestigious prizes celebrate nearly 60 of the UK's best hospitality brands, businesses, venues and individuals
Peach 20/20 is delighted to reveal the shortlists for the 2022 Hero & Icon Awards, honouring dozens of superb businesses and people across the hospitality sector. The 11 shortlists are:

Newcomer
Arcade, Big Mamma Group, Marugame Udon, NQ64, Popeye's Louisiana Kitchen and Sessions
Breakthrough Brand
Black Sheep Coffee, Bundobust, Butchies, Mr Fogg's, North Brewing Co and Wingstop
Reimagined Brand or Business
Arc Inspirations, Coco di Mama, Gail's, Gusto Italian, Hickory's, Pizza Pilgrims, Rockfish and The Alchemist
Best Destination / New Opening
Arcade; BrewDog, Waterloo; Brewpoint, Bedford; Electric Shuffle, Bermondsey; Hawksmoor, Wood Wharf; M Restaurants, Canary Wharf; The Alchemist, Edinburgh; and The Firehouse, Manchester
Most Admired Company or Brand
Boxpark, Dishoom, Hawksmoor, JKS, Loungers, Mission Mars and Pizza Pilgrims
Best Major Business
Burger King, Five Guys, Greene King, Loungers, Nando's, Revolution Bars, Soho House and Wagamama
Entrepreneurial Company of the Year
Arc Inspirations, Dishoom, Incipio, JKS, Mission Mars, Mowgli, Ole + Steen and Turtle Bay
International Award
Black Sheep Coffee, Hawksmoor, Ole + Steen, Popeye's Louisiana Kitchen, Soho House and Swingers
Sustainability Award
Burger King, Hawksmoor, M Restaurants, Nando's, Peach Pub Co, Revolution Bars, Rockfish and Wahaca
Industry Leader of the Year
Nick Collins, Loungers; Roy Ellis, Mission Mars; Nisha Katona, Mowgli; Nick Mackenzie, Greene King; Marta Pogroszewska, Gail's; Rob Pitcher, Revolution Bars; Mitch Tonks, Rockfish; and Martin Wolstencroft, Arc Inspirations
Industry Ambassador Award
Will Beckett, Hawksmoor; Nisha Katona, Mowgli; Tom Kerridge, chef; Sacha Lord, The Warehouse Project; Alex Reilley, Loungers; and Clive Watson, The City Pub Company
The shortlists were selected by a panel of hospitality's most senior and accomplished figures, and cover the UK's wide spectrum of restaurants, pubs, bars and cafes. They recognise 45 different brands, businesses and venues, plus 13 inspirational individuals. Businesses with multiple nominations include Hawksmoor with five and Dishoom, Nando's, Revolution Bars and The Alchemist with three apiece.
The winners of all 11 categories will be revealed at a special Hero & Icon Awards dinner following the Peach 20/20 Conference on Tuesday 18 October at the Roundhouse in London. The invitation-only Conference is the hospitality industry's top networking and learning event of the year.
Shortlists for four more categories—the Diversity Award, Consumer Choice, Power Brand and Drinks Experience—will be unveiled soon. The dinner will also present two Special Awards and name the recipients of the prestigious Peach 20/20 ICON Awards, for individuals who have left their mark on the out-of-home eating and drinking sectors. There are no shortlists for the Special or ICON Awards.
Peach 20/20 founder Peter Martin says: "These shortlists are packed with the brands and people who make hospitality such a dynamic and successful sector, and we salute them all. In a challenging time for the industry, these superb businesses and leaders have responded brilliantly to all the major issues like Brexit, COVID and rising costs that have been thrown at them, and they reflect the remarkable diversity, resilience and innovation of hospitality today. These are the best of the best in our industry, and we're looking forward to celebrating with them at our Awards night on 18 October."
Peach 20/20 thanks its headline partners on the Hero & Icon Awards: CGA by Nielsen IQ, Diageo, Fourth, Nutritics, Wireless Social and Zonal; premium partner Harri; and event partners BrewDog, Budvar UK, Chapman Ventilation, Coca-Cola, Freeths, Lucky Saint, Mr Yum and Yumpingo. Charity partners are Only A Pavement Away and the Tim Bacon Foundation, and association partners are Plan B and UKHospitality.