16 Nov 2023
Peach 20/20 honours Mark Derry and Jane Holbrook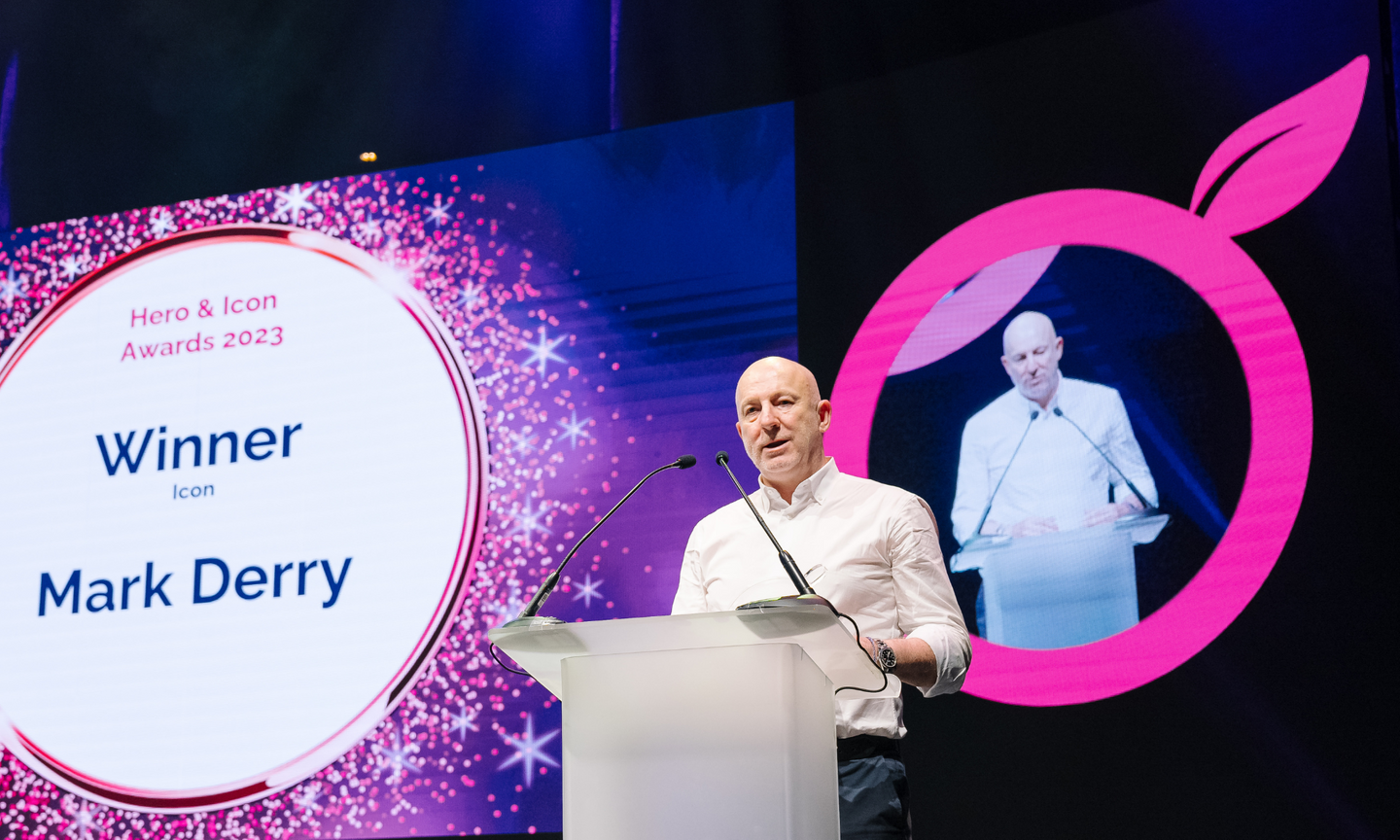 Peach 20/20 has recognised the achievements of two inspirational leaders at the 2023 Hero & Icon Awards.
They are Mark Derry and Jane Holbrook, who join a select group of hospitality entrepreneurs and directors as recipients of prestigious Icon Awards.
Mark Derry has been instrumental in the growth of numerous pub, bar and restaurant concepts since the early 1980s. After helping to develop brands including Henry's Café Bars, Hanrahans and TGI Friday's while at Whitbread, he ran the Country Style Inns group and co-founded seafood restaurant chain Loch Fyne, which grew from two to 36 sites before its sale to Greene King in 2007. Derry went on to lead Brasserie Blanc and the White Brasserie Company, now known as Heartwood Collection, where he is executive chairman. He is also a non-executive director at Camino and Be At One.
Presenting Mark Derry with the Icon Award, Peach 20/20 founder Peter Martin said: "Mark has been right at the heart of some of our country's most distinctive and successful hospitality concepts over four decades—and he's still very much at the top of his game. He's got an unerring eye for gaps in the market and filled them brilliantly with a winning formula of high-quality food and drink in casual environments. He's modest but exceptionally shrewd, with a clear vision of what he wants to do and where he wants to be."
Jane Holbrook also started her career in earnest at Whitbread before steering the growth and sale of a succession of top casual dining groups. As managing partner at TDR Capital, she worked with brands including PizzaExpress, ASK and Zizzi, before taking on financial leadership roles at Novus Leisure, Richard Caring's group and Bramwell Pub Company. Holbrook then worked as CFO, COO and CEO of Wagamama until its sale to The Restaurant Group. She is now chair at the Côte restaurant group and an active non-executive director and charity patron.
Peter Martin said: "Jane's CV spans an exceptionally wide spectrum of hospitality, and she has been an outstanding player in some of our sector's most important growth stories and deals. She has sharpened the visions and developed the teams of so many businesses, always with a focus on results and value. She may be something of a deal specialist but she's so much more than that, and she's certainly not done yet."
Mark Derry and Jane Holbrook received their Awards on Tuesday 14 November at a special dinner that followed the Peach 20/20 Leaders Summit, the industry's most important networking and learning event of the year. The evening also saw the presentation of 14 Hero Awards to a range of outstanding businesses and individuals across Britain's out-of-home eating and drinking sector.
Mark Derry and Jane Holbrook join an elite list of 35 other industry Icons: Tim Bacon, John Barnes, Andy Bassadone, Will Beckett, Peter Boizot, Rupert and Jo Clevely, Chris Corbin, Roy Ellis, Gerry Ford, Karen Forrester, Huw Gott, James Horler, Tony Hughes, John Hutson, Bob Ivell, Alan Jackson, Karen Jones, Phillip Kaye, Jeremy King, Simon Kossoff, Neil Macleod, Tim Martin, Julian Metcalfe, Danny Meyer, Thomasina Miers, Ian Neill, Kate Nicholls, Jane O'Riordan, David Page, Ian Payne, Alex Reilley, Robin Rowland, Steve Richards and Mike Tye.
Peach 20/20 thanks its headline partners on the Hero & Icon Awards: CGA by NIQ, Diageo, Fourth, Nutritics, Wireless Social and Zonal; premium partners Chapman Ventilation, Coca-Cola Europacific Partners, Harri and Uber Eats; and event partners Airship, Brakes, Cardlytics, Freeths, Fresh Direct, Greene King, Lucky Saint and Toggle.