06 Sep 2022
Peach 20/20: Exciting full programme announced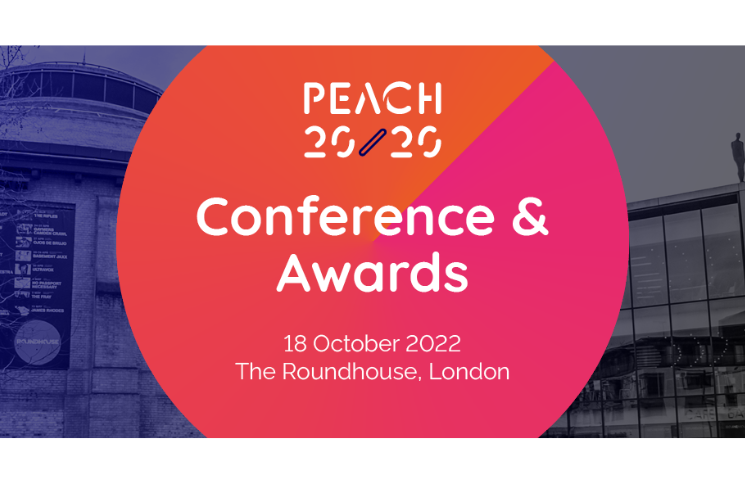 The Peach 20/20 Conference and Awards takes place at The Roundhouse on 18 October 2022. Our theme this year is: Create to Transform.
Our conference programme will tackle many of the big issues we face; we'll identify solutions and strategies that will give you practical ideas to execute at pace in your business. We will also shine a light on the creativity that has been evident across the sector and beyond; spotlight the individuals and businesses leading change, share the best ideas, spark fresh conversations and turbo-charge your imaginations.
Peter Martin says: "We are delighted to welcome so many exceptional speakers to share their insight and experience. There is much to learn from them all and this insight will be particularly vital as we look to overcome the challenges in the marketplace."

The Peach 20/20 conference agenda:
Create & Transform
Introduction by conference chair Peter Martin - one of the most authoritative and influential communicators and community-builders in the eating and drinking out sector, with some 40 years experience as entrepreneur, columnist, editor, media owner, market analyst and board adviser.
It's always the economy
Martin Vander Weyer, business editor of The Spectator, sets the scene with his perspective of the developing economic, business and political landscape - and where it's leading us
So where does that leave investors?
We ask a trio of sector investors for their take
The ultimate talent contest
Nisha Katona, founder and CEO of Mowgli, asks how do we make hospitality the envy of other workplaces? She chairs a panel on creating compelling cultures and work environments, with among others:
Holly Addison, co-founder, Plan B
Marta Pogroszewska, managing director, Gail's
Jon Knight, managing director leisure and concessions, The Restaurant Group
Keniro Miller, Global HR Director, Soho House
The Change Makers
Lorraine Copes, founder of Be Inclusive Hospitality, talks to aspiring, and inspiring, entrepreneurs about making their mark in a challenging, but changing, market environment, with among others:
Sustainable security
UKHospitality CEO Kate Nicholls leads a panel discussion on the priorities of energy supply, food security and sustainability - and where it leaves the whole ESG debate, with among others:
Transformational leadership
Peter Martin talks to a group of ambitious leaders from the UK and US who are taking their businesses in new directions, with:
Mitch Tonks, founder and CEO, Rockfish
Karen Bosher, managing director of Premium, Urban and Venture Brands, Greene King
Jason Cotta, CEO, Ole & Steen
***
If you are a board level brand owner or operator and haven't yet received an invitation, please email hello@peach2020.com and we'll make sure to get you on the guest list. Alternatively you can register your interest in attending here.