20 Sep 2023
Learning about Liverpool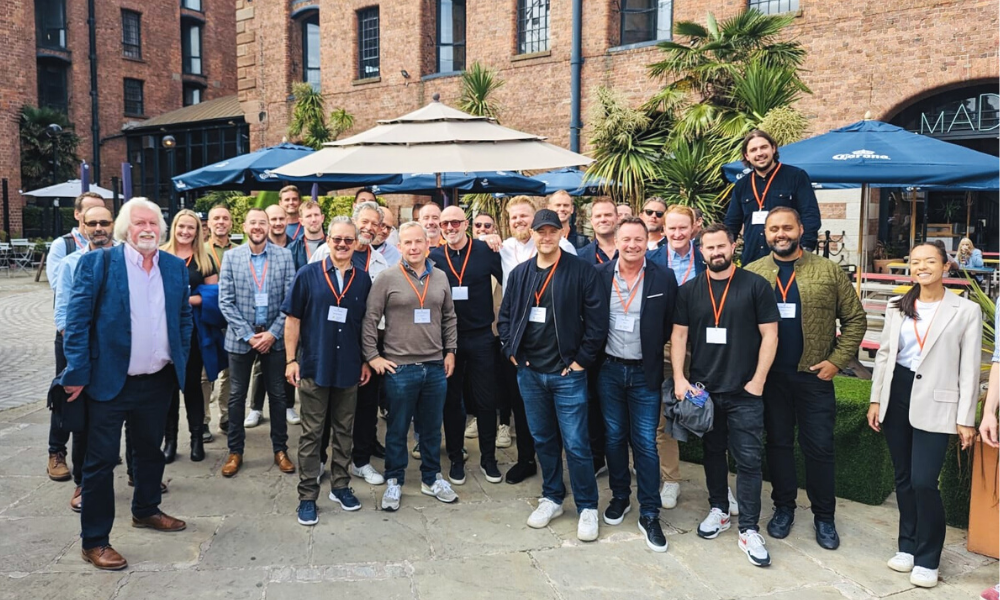 Why do tourists visit Liverpool? Is it the football, or the music, or the architecture? For many out-of-towners the reason is to eat and drink - and that's the experience they expect to spend more on in coming months.
The city's vibrant bar, pub and restaurant scene is a big draw and looks set to continue, according to consumer research from CGA by NIQ. And as the senior execs and entrepreneurs on the Atlantic Tour discovered, that marketplace is being continually enriched both by local entrepreneurs and incoming brands.
What also became clear on tour is that Liverpool has its own personality that sets it apart from Manchester, its local rival down the M62. Liverpool is definitely a fun city - something all operators opening up there should have in mind. Merseyside doesn't take itself too seriously.
So, what else did Atlantic Club learn on tour? Here's five takeaways.
1. Collaboration is cool
The tour kicked-off at Madre in Albert Dock, which served up a selection of top class tacos for the group to sample - and as the Atlantic Club has recently visited both Austin and Miami, members know a thing or two about tacos. As Madre's co-owner and chef director Sam Grainger, just back from a research trip to Mexico himself, explained, the concept was created to fill a gap in the market, but was launched in collaboration with the already established Breddos Tacos in London. Working together has paid off, and Madre has now opened in Manchester with plans for more locations across the north, including Leeds.
2. The benefits of a university education
One of the most impressive venues in town, certainly in terms of scale, is PINS Social Club, built over three floors of a former car park with a six-lane bowling alley, bar, restaurant, pool, shuffleboard, and an extensive roof-top bar. It's the brainchild of local entrepreneur Dan Gillbanks, who created the idea while still a student as part of his dissertation for a business degree. As he says, in true Liverpool fashion: "PINS is all about having fun, real fun, proper serious fun". And in the spirit of collaboration, Bundobust, the Indian beer and food brand (which already operates in the city) will soon be running a pop-up on the PINS rooftop. The tour also had time to pop into Bundobust to sample the okra fries!
3. Community spirit
Celebrated chef Gary Usher and his managing director Matt Shaw welcomed the tour to Wreckfish bistro, with specially prepared feather blade beef and cheese and onion pasties to sample - and no ordinary pasties it has to be said. Business is challenging for restaurants in the current climate, and the six in the Elite Bistros operation are all having to be creative to keep custom, Usher said. However, he said he found a whole new level of community engagement when Elite opened its latest venture, the White Horse pub in Cheshire. So pleased were the locals that their pub was staying open, that many turned up to help refurbish the place, even bringing their own tools.
4. Enterprise zone
The Liverpool Atlantic Club highlighted the opportunities that entrepreneurs are still finding to open and scale businesses. As well as Madre, Elite Bistros and PINS, the tour caught up with Matt Farrell, co-founder of GSG Hospitalitythat operates a range of sites in the city, including Duke Street Market, Manolo (a cool cocktail bar), Nord and Bold Street Coffee (which is now expanding across the region, who stressed the importance of building loyalty. A walk down Bold Street to the always impressive and high-grossing Alberts Schloss to meet founders Roy Ellis and Neil Macleod also took in the original Mowgli site, complete with the trade-mark swing in the window, a reminder of that brand's origins and still strong local roots. All underlined how many great businesses have been created in the North West.
5. Adapting to the market
Understanding the local mind-set of any market was underlined by Hawksmoor founder Will Beckett, who stressed how the group's Liverpool restaurant was still learning and evolving - and better understanding Liverpool's desire for fun. It was also anchoring itself in the community, increasingly sourcing local products.
Big thanks to the other brilliant brands we visited and leaders we met: Gaucho, The Alchemist, Junkyard Golf and Popeyes
And finally, thank you too to our Atlantic Club partners Harrison, Harri, Yumpingo.