20 Oct 2022
Industry Icons: Peach 20/20 honours five hospitality trailblazers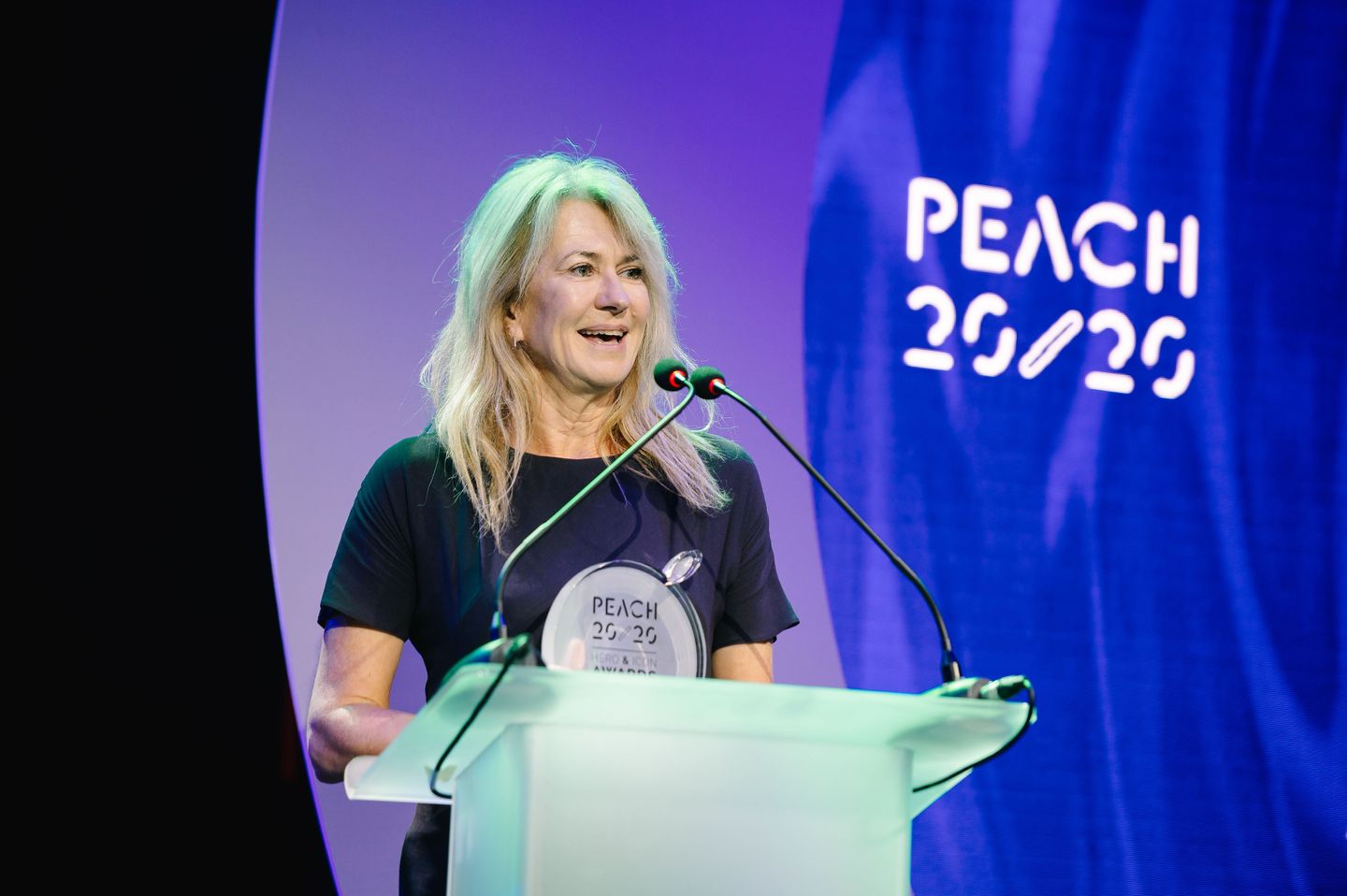 Entrepreneurial stars of the restaurant, pub and bar world join the roll call of Icon Award recipients
Peach 20/20 is proud to announce the five recipients of the 2022 Icon Awards for hospitality's most inspiring leaders.
They include two entrepreneurial double-acts who between them have founded three of the UK's most successful and influential restaurant and bar groups. Will Beckett and Huw Gott launched their first Hawksmoor restaurant in 2006, and have brought the concept to 11 locations in the UK and New York—with more openings to come in cities including Liverpool and Dublin. Beyond the successful growth, they have established Hawksmoor's stellar reputation as one of the best employers in hospitality.
Presenting Beckett and Gott with their Icon Awards, Peach 20/20 founder Peter Martin said: "This pair are long time friends that dabbled in the bar business before settling upon the plan to create the best steak restaurant in London. Their first restaurant open in Spitalfields in 2006, more followed in Seven Dials, Guildhall, Air Street, Knightsbridge and Borough Market – Hawksmoor was on the road. Will Beckett and Huw Gott are true pioneers, setting the standard not just for high quality and reassuringly informal restaurants, but on people and sustainability too."
Fellow Icons Roy Ellis and Neil Macleod are the co-founders of Mission Mars, the Manchester-based multi-concept group behind fast-growing brands including Rudy's and Albert's Schloss. Before launching Mission Mars, Ellis and Macleod ran bars that led them to create the powerful Revolution bar brand in 1996, floating the business four years later and selling to Alchemy Partners in 2006.
Peter Martin said: "In Alberts Schloss they have created perhaps an unlikely sensation, a German beer hall that's uber cool. And, they also have time to mentor and support other entrepreneurs having taken Rudy's, certainly one of the best pizza establishments to come out of the North West, under their wing."
The fifth new Icon is Jane O'Riordan, chair of three very successful and ambitious brands: Turtle Bay, Caravan Restaurants and Flight Club. Over 25 years in hospitality, she has also been instrumental in the growth of a myriad of top casual dining brands including Nando's, Gourmet Burger Kitchen and PizzaExpress, and is a member of the advisory panel at Piper, an investor in various leading hospitality operators.
Peter Martin said: "She works effectively and persuasively behind the scenes, but for 22 years (latterly as group strategy director) Jane helped plot the rise and rise of what is now the best known, arguably best loved and perhaps most iconic casual dining brand in the UK – and now with a growing international presence. That brand is Nando's. Now, she has brought that expertise and experience into the wider market as chair of Caravan, Turtle Bay and Red Engine, the team behind Flight Club and Electric Shuffle, helping to guide those enterprises to greater heights both here and internationally."
The five Icons were celebrated at the Hero & Icon Awards dinner following this year's Peach 20/20 Conference, the hospitality industry's leading networking and learning event. The evening also saw the presentation of Hero Awards for hospitality's leading brands—including the title of Most Admired brand for Beckett and Gott's Hawksmoor, and the Entrepreneurial Company award for Ellis and Macleod's Mission Mars. Read more about the Hero Award winners here.
Will Beckett, Roy Ellis, Huw Gott, Neil Macleod and Jane O'Riordan are now part of an exclusive group that features 30 more industry Icons: Tim Bacon, John Barnes, Andy Bassadone, Peter Boizot, Rupert and Jo Clevely, Chris Corbin, Gerry Ford, Karen Forrester, James Horler, Tony Hughes, John Hutson, Bob Ivell, Alan Jackson, Karen Jones, Phillip Kaye, Jeremy King, Simon Kossoff, Tim Martin, Julian Metcalfe, Danny Meyer, Thomasina Miers, Ian Neill, Kate Nicholls, David Page, Ian Payne, Alex Reilley, Robin Rowland, Steve Richards and Mike Tye.
Peach 20/20 thanks its headline partners: CGA by Nielsen IQ, Diageo, Fourth, Nutritics, Vita Mojo, Wireless Social and Zonal; premium partners Access and Harri; and event partners BrewDog, Budvar UK, Chapman Ventilation, Coca-Cola, CPL Learning, Freeths, Lucky Saint, Mr Yum and Yumpingo. Charity partners are Only A Pavement Away and the Tim Bacon Foundation, and association partners are Plan B and UKHospitality.