08 Aug 2023
How Google is rethinking its restaurants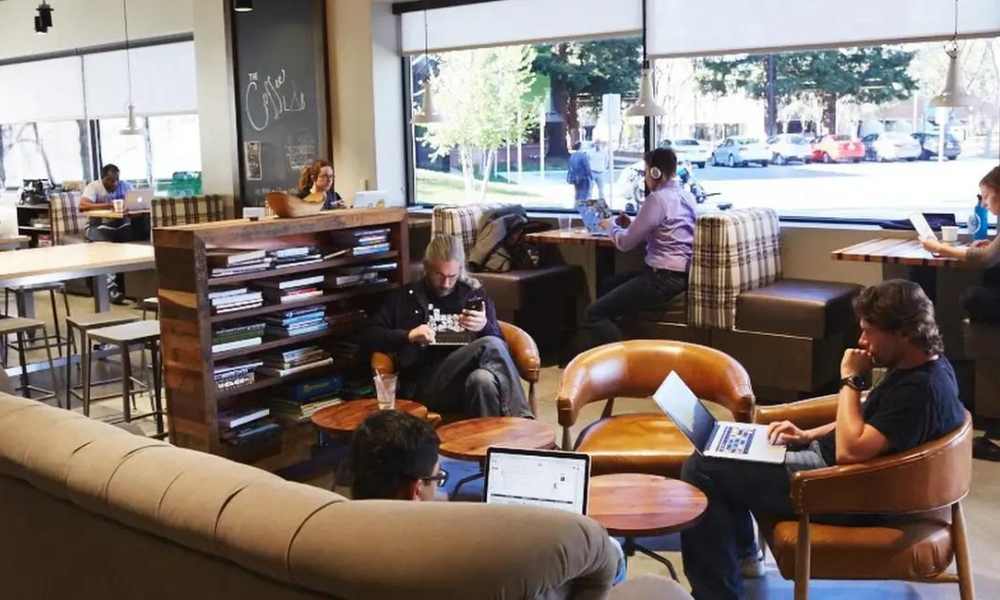 Technology and data are revolutionising operations in food and drink, and no-one knows more about the connected world than tech giant Google - which also happens to be one of the world's biggest corporate caterers. James Shaw, its global design lead for kitchens and technology, gave the 2023 ceda Conference his expert thoughts on how harnessing digital solutions will make kitchens more efficient and sustainable. Here are six of the top takeaways.
Food fuels innovation
Google operates around 380 restaurants in 58 countries, plus 44 food trucks and 1,500 micro-kitchens—and food powers its relentless innovation. "The food programme is there to fuel people to be at their best," James Shaw said. "Ever since Google's existed it's been an integral part of the culture, and we continue to bring people together around a table to share ideas. it's heavily rumoured internally that things like Google Maps and Gmail were born out of conversations that happened in our food spaces between teams that normally wouldn't be seated together and never would have had those conversations."
It's time to rethink building data
The issues that Shaw's team discusses around Google's food spaces are increasingly dominated by tech. "Over the last few years we've been asked new and interesting questions about the devices we want to connect to the building management network and the things we want to measure—and in all honesty we didn't have all the answers… but it does prompt exciting conversation that support the growth and transformation of Google's real estate and the delivery of the amenities that show up in there."
We're at the start of a new era of digitally-enabled buildings, he thinks. "Google's mission statement is to organize the world's information and make it universally accessible and useful. But what if you re-engineered that and said a digital building could make a building's information globally accessible and useful?" That's easier said than done of course. "Building data isn't organized—in fact it's incredibly siloed in its measurement and reporting, and in most cases access to meaningful data and insights is governed by the device manufacturer… [which means it's] incredibly difficult to make it accessible and useful to the people that need it." It's time to rethink that, Shaw said. "There's a huge opportunity for the industry to lean in and set a new precedent for approaches."
Kitchens are going all-electric
Google has some of the corporate world's most ambitious goals on sustainability. Carbon-neutral since 2007, it offset its entire carbon legacy in 2020 and has pledged to be carbon-free in its buildings by 2030—which has important implications for the food programme. "A by-product of that is a shift to all-electric kitchens… gas is a carbon-producing fuel, so it will no longer show up in our real estate." Google will also be gathering much more data about its use of appliances, to look for reductions and make better use of green energy sources like wind turbines and solar panels. "We need to know exactly how much energy we use, at a building, space and circuit level… The energy crisis that occurred over last winter really sharpened the focus."
Predictive analytics reduce waste
Google has some ambitious targets on waste too. It aims to reduce food waste by half and send nothing to landfill by 2025, and has committed to replenishing 120% of the water it uses. Good analysis of food waste and water use is the first step to improvements, Shaw thinks—though it's not straightforward. "We have a huge amount of pre-consumer food waste data… so we're very data rich, but we're not incredibly insight-rich. That's one of the biggest hurdles that we face, and one of the things that we're asking digital buildings to help solve." It also wants to get better at predictive analytics, so it can adjust the food programme to factors like the weather, holidays and big sporting occasions. "It all changes how people show up in our offices, and we need to match our food production to that."
Security is paramount
Security is a top priority when connecting equipment and collecting data. High-profile hacks have shown the huge damage that poor practice can cause. "Devices need to show up in your customers buildings in a very secure way… That [hacking threat] is very real," Shaw said. "There's is a huge amount of risk associated with an insecure device. I've never been asked by someone installing equipment in our facilities which is the most secure network to put a device on—it's invariably what's the easiest network. But if you're a manufacturer or installer of a piece of equipment, that can become a gateway for a cyber-attack. The reputational risk is to you, your customer and your customers' customers—and that risk can be significant."
Data should speak the same language
If you get the security right, there are exciting untapped opportunities in connectivity. "For digital buildings to really take flight they need to speak a common language… [then] we can start to merge data sets and create dashboards to solve big problems," Shaw said. One of Google's solutions to this is a new Universal Device Management Interface (UDMI)—an open-source spec for the management of physical IoT systems that can help make kitchens more efficient and sustainable.