25 Aug 2022
Enjoy the journey: Five takeaways from Roger Wade's Top Table Podcast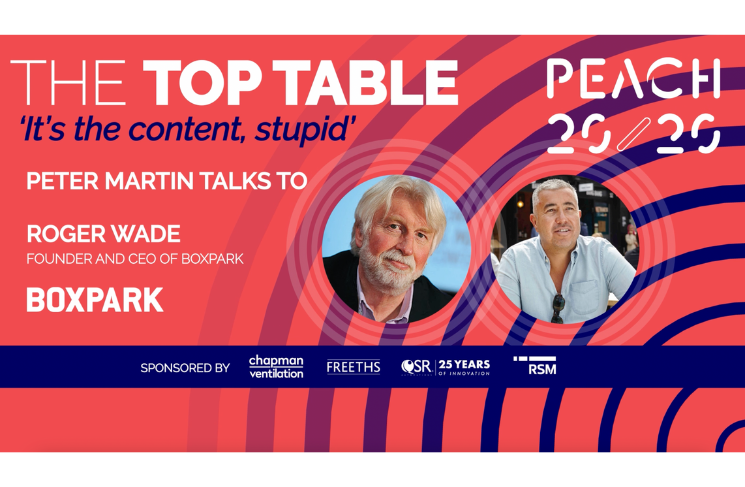 Boxpark founder Roger Wade was a very popular guest speaker at Peach 20/20's Summer Meet-Up—and you can now listen to his compelling session on the Top Table Podcast. Here are just five top takeaways.
1 'I never had a master plan'
Wade's career is a classic story of hospitality entrepreneurship. After various unrewarding jobs he found his feet running his own streetwear brand and then plunged into hospitality. "I didn't have a master plan—and I'm not sure I believe anyone who says they do." Boxpark was the result of a flash of inspiration after his success in clothing. "I had this germ of an idea that connected up the dots of my life. I had a fascination with containers because filling them [with clothes] was a sign of success for me. Then I had a Eureka moment in the middle of the night to build a whole retail development out of them… and the rest as they say is history."
2 'Entrepreneurs should have an exit strategy'
Wade recently stepped down as Boxpark CEO, and he thinks anyone who starts up a business should know when the time is right to move on. "It's really important to have an exit strategy," he said. "When you set out as an entrepreneur you've got to have a beginning and end of the story. From an emotional perspective I was coming to the end of my journey with Boxpark… and there was money on the table, which helps."
3 'It's not a bad time to start a business'
Wade links the current big economic challenges like high inflation and labour shortages firmly to the UK's disastrous departure from the European Union. "Brexit is the single biggest economic decision that's ever been made in this country… and the more that the hospitality industry calls it for what it is, the better." But some of the best businesses are born in the toughest conditions. "It's going to be a very difficult time in the market—but that doesn't mean it's a bad time to start a business. It'll be the incumbent businesses with large overheads that are really going to struggle."
4 'It's not about the money'
Having built and exited very successful businesses, profit isn't the major motivation for Wade anymore: instead, he gets his buzz from supporting new entrepreneurs and his team. "I know it sounds cliched, but it really isn't about that the money for me. There's a real sense of pride in starting from nothing and delivering something new and refreshing. I absolutely love the feeling of bringing staff on board and being loyal to my team."
5 'Enjoy the journey'
Wade was asked if there was anything he'd do differently if he had his time in hospitality again. "Easy question: I'd enjoy the journey more. I wouldn't be in such a rush to get from A to B, and would realise that it's like a dance floor where it's the moves in between that really matter. If you enjoy it, you won't ever need to sell, because the journey's so good."
You can listen to the Top Table Podcast in full on Apple Podcasts, Spotify, Google and Amazon, and stream direct from the Peach 20/20 website.
The Top Table Podcast is sponsored by Chapman Ventilation, Freeths, RSM, QSR Automations.