20 Nov 2023
The economic outlook: expert insights from Peach 20/20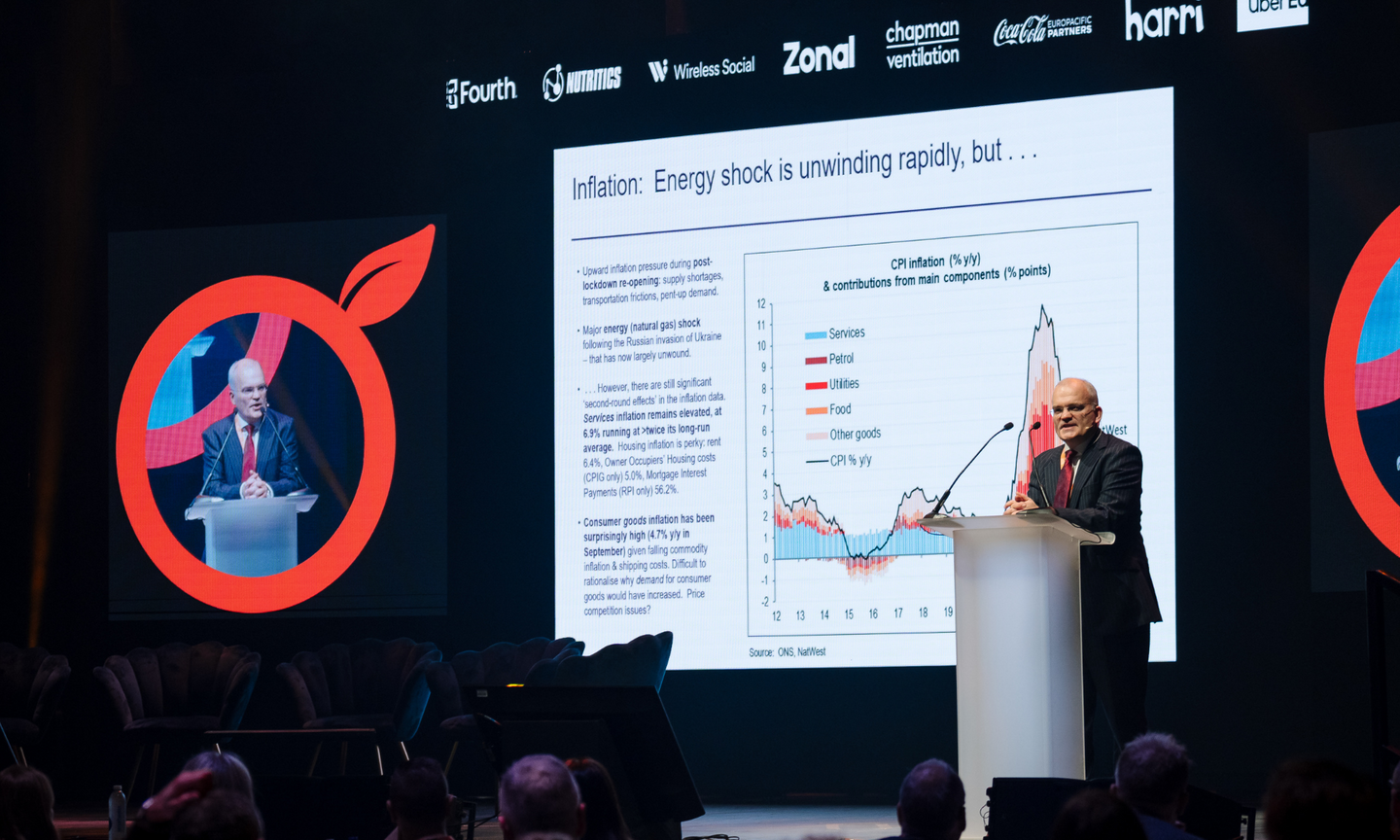 How's the economy shaping up for 2024? The Peach 20/20 Leaders Summit cut through the noise to get expert insights into the outlook for businesses and consumers from Ross Walker, chief UK economist and co-head of global economics at NatWest Markets. Here are seven takeaways.
1 'GDP growth is negligible'
The economy has been full of ups and downs, but the end-result is that in GDP terms it's essentially flat. NatWest estimates growth of just 0.5% this year—well below the average annual growth of 2% in the decade before the COVID-19 pandemic. And it's not about to get any better. "We've seen really negligible growth over the last year or so, and we'll probably see something similar over the next 12 to 18 months," Walker said.
2 'There's a mild recession risk'
NatWest forecasts of a GDP dip of 0.3% across 2024, and with interest rates squeezing consumer spending and business investment, there's the possibility of a recession next year. But it's not a cause for undue concern, Walker thinks. "We may get a technical recession, but it's probably going to be relatively mild and relatively short-lived."
3 'Things could have been dramatically worse'
Neither of these indicators appear very positive. But in light of global traumas like COVID, Russia's invasion of Ukraine, energy shocks and the cost of living crisis, it represents a pretty good performance, Walker said. "When you think of the scale of the shocks that have hit the UK over the last couple of years… the economy and the labour market have been remarkably resilient. Things could have been dramatically worse than what has panned out."
4 'F&B is outperforming'
Encouragingly for our part of the economy, consumers' spending on food and drink remains solid. The ONS says output from food and beverage services is now 3% above pre-pandemic levels, compared to 1.75% for the economy as a whole. It also compares favourably with other services like accommodation, where output is still 2.5% below where it was before COVID. "The food and beverage sector has been outperforming the economy as a whole… there's still momentum there and consumers haven't fundamentally changed their behaviour [of eating and drinking out]," Walker said.
5 'The inflation shock is unwinding'
Another positive sign can be found in inflation, with CPI rates slowing sharply to 4.6% in October. "The inflation shock is now really quite advanced in terms of unwinding," Walker said. Nevertheless, prices are still rising—especially in foodservice, where rates have hovered around 20% this year.
6 'Interest rates are levelling out'
A slowing of inflation should allow the Bank of England to put a lid on interest rates. "I think there's only a small-ish probability that they'll rise again. if they do it's likely to be in the first quarter in response to what they deem to be excessive wage inflation, but it's more likely that we're in a period now where we level out." A modest cut in the second half of 2024 seems possible, Walker thinks. "We're not going back to the ultra-low rates we all got used to after the global financial crisis, but there will be some relief for homeowners and other borrowers, and investment will get a little bit cheaper."
7 'We may see some fiscal loosening in the near-term'
With a General Election on the horizon, the Chancellor's Autumn Statement and 2024 Spring Budget could bring a few perks for individuals and businesses. "At some point there will be some further fiscal loosening and maybe tax cuts, which in the near-term could be helpful for consumer-facing businesses." But with the Conservatives and Labour both committed to avoiding excessive borrowing, benefits may be short-lived. "The big fiscal challenge after the election is getting deficits down to a more sustainable level. Achieving that is going to require some public expenditure restraint."
Peach 20/20 thanks its headline partners on the Peach 20/20 Leaders Summit: CGA by NIQ, Diageo, Fourth, Nutritics, Wireless Social and Zonal. Premium partners were Chapman Ventilation, Coca-Cola Europacific Partners, Harri and Uber Eats. Event partners were Airship, Brakes, Cardlytics, Freeths, Fresh Direct, Greene King, Lucky Saint and Toggle.