09 Aug 2022
Deignan and Linfoot to speak at Plan B Conference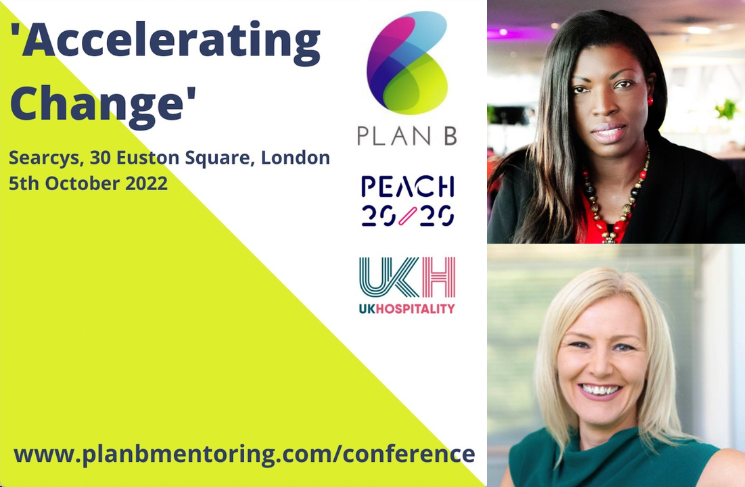 Plan B, the mentoring platform designed to accelerate women's representation on boards, has announced two new speakers for its first conference on 5 October at 30 Euston Square, London.
"Accelerating Change" is both the conference theme and its mission. The agenda will focus on how organisations can create the inclusive cultures where diverse talent will thrive.
Brandie Deignan is the latest #changemaker joining the speaker roster. Brandie wears many hats; catalyst, mentor, guest lecturer, trustee, non-exec director, Justice of the Peace, advisory board member, a CEO by day and mum to twins.

Brandie was the first female MD to hold her role at MPW Restaurants and is the only black female NHS primary care super-partnership CEO. She was recently named as one of the top 15 BAME high fliers in travel and tourism industry and was a finalist at the Black British Business Awards.

Brandie has proven her leadership ability across multiple industries including hospitality, retail, aviation and now healthcare.

No less impressive, is high performing CEO turned £multi-million entrepreneur Jeannette Linfoot. Jeannette will share her 12-step process to overcome imposter syndrome and become a stronger, more confident, and settled person.

Jeannette's experience spans some 27 years' in global leadership roles across the travel, leisure, hospitality and property sectors. Inducted into the travel industry Hall of Fame as Businesswoman of the Year, Jeannette was subsequently acknowledged as 'One of the Most Influential Women in Travel' by the Association of Women Travel Executives. She has helped hundreds of people unlock their true potential in their businesses and careers and her podcast Brave, Bold, Brilliant is in the top 1.5% of all podcasts in the world.

Also confirmed are leading lights in the diversity field: Kate Nicholls OBE, Emma Woods, Rob Pitcher, Laura Harper-Hinton, Jane O'Riordan, Robert Cook, Suzie Welch, Ronnie Murray, Loraine Copes to name just a few.
The 'Plan B: Accelerating Change Conference' is designed for C-level business leaders, founders and HR professionals seeking to make positive change in their organisations, the industry and society at large.
The ticket price of £160 plus VAT includes a 'plus one' to be shared with an up-and-coming talented colleague from an under-represented group, who may not typically be invited to attend such an event.
For more information on speakers, the full agenda and to book tickets click here.

***
Plan B is a not-for-profit mentoring programme, launched in 2017 by Holly Addison, Emma Causer and Ann Elliott – with a mission to accelerate the promotion of women leaders to the board and senior leadership teams. Its impact was immediate. Plan B has now matched over 500 talented senior women with C-Suite mentors, sharing practical hands-on advice and executive level coaching to elevate their careers all the way to the boardroom.