11 Oct 2023
Balance the Board: 10 things we learned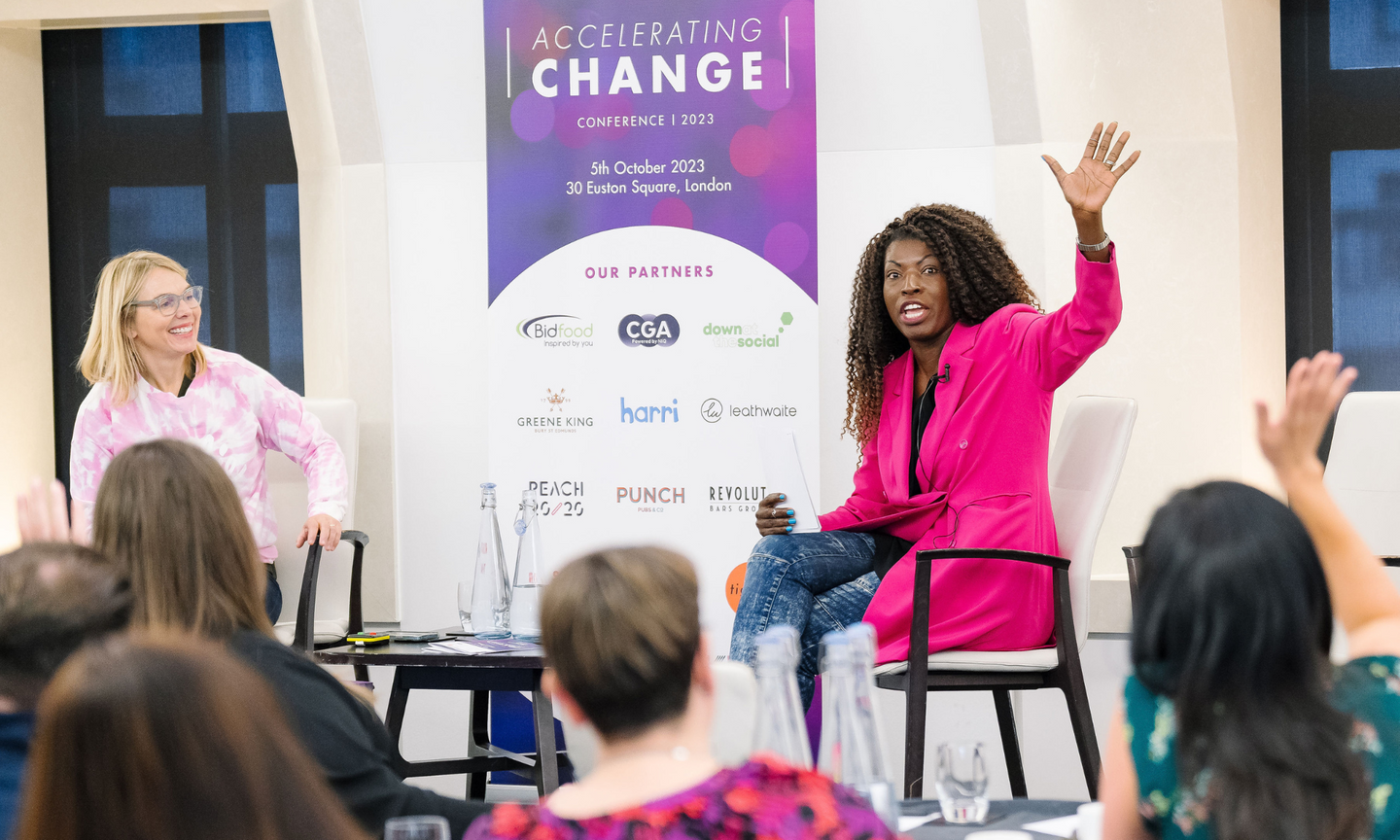 The case for super-charging hospitality's commitment to inclusivity and diversity was made loud and clear at this year's Balance the Board Conference. Speaker after speaker emphasised that this is no time to pull back on initiatives, while providing practical advice on what businesses can do to meet day-to-day challenges.
On the one hand…
Just how far the sector needs to go was underlined by data produced by CGA by NIQ and presented by UK Hospitality CEO Kate Nicholls. Although the industry has progressed, with 75% of women working in hospitality saying their workplaces are doing well in fostering and ensuring gender diversity and equality, halmost all (92%) say they have faced gender-related challenges or barriers in their careers, with two-thirds having witnessed or experienced workplace harassment. The sector is in the middle of the pack when compared to other sectors in driving gender equality. But while diversity at site level is impressive, it diminishes as women progress their careers - with 61% of women surveyed saying they had faced unconscious bias, something that need to be addressed from the top down.
Where to start?
Creating an inclusive business culture is not always easy, but the advice from the conference was to start with what you have, pick issues that are already in the company and which already have advocates, and "celebrate individuality". "You can't do everyting," said Dawn Browne, chief people officer at Fullers, but she added: "No matter how scary, do something….Where there are advocates in the business, let them lead, and give them support." But management has to drive culture too. Hawksmoor's Ceri Gott added: "We push out information on mental health..we ask about exercise and health… we try to break down the taboos. We now embed inclusivity in everything we do."
The talent pipeline
We have a wealth of female talent coming through It just happens to be one level below board - according to Jane O'Riordan chair of Caravan. She exhorted functional leads looking to breakthrough to the C-suite to demonstrate they have a grasp of the bigger business picture beyond their discipline - be that ops, marketing, finance - and show they can contribute intelligently to the broader strategic issues. "Learn to wear the big hat; look at the whole company," she said. She was joined on stage by fellow female board members at Caravan, founder Laura Harper-Hinton and managing director Jo Fleet whose collective observations on what makes a strong board centred on collaboration, challenge, creativity and fun - regardless of gender. Caravan had restructured its board meetings to make them more strategically focused on the future, making meetings 'value-add'.
Barbie: archetypal woman on the board?
Tortilla chair Emma Woods and former hospitality executive and now NHS leader Brandie Deignan led their session with the now famous America Ferrara's monologue in the Barbie movie on the competing pressures that are put on modern women - something especially relevant to women on boards, and in particular as an NED. (Google it, you will not be disappointed). They talked about the need to be authentic, learning to listen, to forge relationships and even to get a reverse mentor - and although you aren't expected to be an expert on everything as an NED, make sure you read the board papers! Good advice for NEDs of any gender.
Everyone has imposter syndrome
Although the CGA data showed that 53% of women in hospitality had experienced imposter syndrome, it wasn't just a female problem speakers agreed. So how to overcome it? Nightcap founder and CEO Sarah Willingham told the conference: "The game changer for me was when I realised that others underestimating me was my superpower." That's what helped her to overcome her imposter syndrome.
A five-year horizon
CEO Rob Pitcher said the jumping off point for Revolution Barswas five years ago when it consciously started work on promoting female leaders to create diversity around the board table. Now the group had 40% women at board level and over 50% at exec level. Its senior leaders programme had changed perspectives, creating pathways and allowing people to talk about issues, such as childcare. His best piece of advice was:If you don't know what you are doing ask for help - it's a sign of courage not weakness." He said in five years time gender equality should be in the rear view mirror - switching the focus to wider diversity.
Identity and the young
"Listen to what people tell you, especially the young," said diversity and inclusion specialist Kelly Canterford. Surveys show that 20% of young people now identify as LGBTQ+, and as Revolution Bars' Rob Pitcher added: "Over a third (35%) of our workforce now say they are non-heterosexual. Maybe it's the culture we have created that has allowed people to speak? But it's our responsibility as leaders to move culture."
Language matters
Many people are uncomfortable using (he/him), (she/her), (they/them) gender pronouns, but as Kelly Canterford and Polly Shute, co-founder of OUTSpoken Speakers Network, told the audience, it's important to use them as it's about making people who are 'gender' diverse more comfortable. "There's a lot of fear out there," they agreed, as well as misconceptions about people who are gender diverse. "They are just one group, and we need to bring people together to remove fear". As Polly said: "Trans people are not going away. It may make you feel uncomfortable, so become comfortable about being uncomfortable. It's a reality of the work force."
Accessibility 2.0
Covid highlighted the isolation of the disabled population, said Mike Adams OBE, disabled campaigner and CEO of Purple. Overall, 24% of the population are disabled, and 83% of those acquired their disability since birth - with 80% having hidden disabilities, he said. His panel, which included Ed Warner of Motionspot and Diane Lightfoot of Disability Forum, agreed that It was time to reframe accessibility and make accessibility standards the norm, whether through the use of AI to make on-line platforms accessible or to ensure accessible areas really met brand standards, pushing boundaries beyond minimum levels, building the disabled world into the design process. The conversation about disability and neuro-diversity needed to change.
Six second rule
Many neuro-diverse people take time to process information, so whether talking to customer or colleagues, Mike Adams suggested people adopt the six-seconds rule. It means after asking someone a question, such as what they might want to order, count to six to give them time to answer. He said the practice had transformed the experience of many with ADHD and other forms of neuro-diversity.
For more information about Balance the Board, go to www.balancetheboard.co.uk