21 Sep 2023
The American entrepreneur: Jack Gibbons at Peach 20/20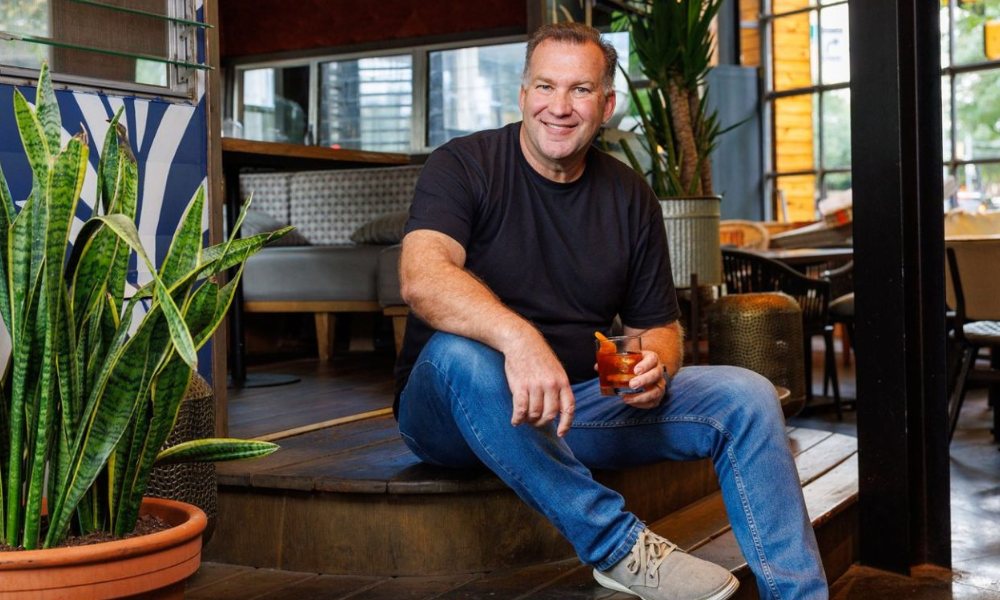 Jack Gibbons is a restaurant and bar trailblazer. As CEO of Dallas-based FB Society, he has led the successful incubation of original concepts across the US - guiding his company through rapid growth, pushing the boundaries with just about every type of operation, from fine dining to food halls, taco stalls to stylish wine bars, community bars to slider stores. Jack Gibbons has done them all.
Gibbons and business partner and FB Society chairman Randy DeWitt have always challenged their teams to "create experiences never imagined." By sourcing locally and developing individual concepts rather than cookie-cutter chains, they have forged a collection of unique operations, offering a distinct ambiance, menu and most importantly stories to captivate guests.
Brands include Whiskey Cake, highlighting farm-to-kitchen food and craft cocktails, the southern-inspired Ida Claire, Texas cowboy-style Haywire and The Ranch at Las Colinas, inspired wine country culture at Sixty Vines, south-of-the-border craft tequilas, mezcals and tacos at Mexican Sugar, and the fast-casual Wagyu slider bar Son of a Butcher. There are also food halls in Dallas and Nashville, a brewery in Plano, TX, an Experiences spinoff that includes catering and event spaces, and numerous emerging brands in incubation. FB Society's concepts span 25 locations nationwide.
Gibbons - who will be interviewed on stage at the Peach 20/20 Leaders' Summit in London on November 14 - joined forces with DeWitt at Front Burner in 2008. During the pandemic, they recast the company to FB Society and shifted their focus to incubating new standalone concepts and partnering with private equity firms to fuel expansion, like fast-casual brand Velvet Taco, an original Front Burner concept in which they still hold a minority stake.
Gibbons believes travel is the key to fostering new ideas and fueling innovation - and that's why you'll meet him as a regular on Peach's Atlantic Club tours. Exploring global cuisines has translated into local success by inspiring new food combinations, exotic restaurant décor, and more.
We spoke with Gibbons prior to his Peach 20/20 appearance about his philosophy, inspiration, and interests:
How did you get into the restaurant and bar business?
FB Society is my second job in the restaurant industry. I started my career with Pappas Restaurants over 30 years ago as a waiter and worked my way up from there. I worked at the first Pappasitos Cantina in Houston and also opened the first Pappadeaux. I helped grow that concept to 34 restaurants before joining FB Society in 2008.
When did you know it was the career for you?
I thrive on creating successful business models by focusing on the details of restaurant operations that many people miss. In operations, there are quantifiable clues to assessing the health of the business beyond the profit and loss statement. During my time with the Pappas family, I became laser-focused on the "how," and it still drives me today.
What's your typical working day?
There is no typical workday. One day I could be meeting with a team to discuss exciting new menu items or suppliers, or meeting with real estate to talk about a new site or concept design.
Risk or caution, which has defined your life more?
The mission of our company is "the courage to create and execute experiences never imagined." You can't do that by playing it safe. We've worked to reimagine multiple genres of dining by challenging norms, driving innovation, and focusing on unparalleled experiences. The move to become an independent restaurateur was a risky one, but I craved creative flexibility and the opportunity to develop an even more dynamic hospitality ecosystem. My partner, Randy, and I are not afraid to dream, and instead make it a point to regularly challenge each other to dream even bigger, and the outcome is a portfolio of hospitality concepts that are bigger, bolder, and more compelling than most in the US. We focus on the obstacles we need to crush to make those dreams real and then rally our team of experts to make it happen.
How hands-on are you?
I lead with a clear and focused purpose. I trust, but always verify. With each brand we create, we develop a very deep and compelling brand DNA so that we stay on course in every detail. If the mission is clear, then there may be a minor course correction but we're all very intentional in our goals.
What trait do you find most irritating in others?
I get frustrated when people get focused on "why" instead of "how." The "how" is the hard part. It's much more important to have a profitable business model than an exciting new concept. People get stuck on the menu creation or interior design – they forget a sexy concept doesn't matter if it's not profitable.
What drives you on?
The FB Society brands are all defined by the term emerging, and with that comes significant growth and that drives me. In 2022 EVERY brand in our portfolio increased annual top-line revenue and profitability, virtually unheard of in this vertical due to the complexity and supply chain challenges. I'm passionate about this industry and creating best-in-class restaurants. But, the growth that I'm most proud of is the growth of my team. Many FB Society team members began working in a concept as a busser or dishwasher and are now managing partners or chef leads. It is the development of each team member that makes this business so exciting, and we pride ourselves on nurturing talent and developing leaders from within. This is the product of vision, tenacity, and courage combined. We're all pursuing what CAN BE together, and at FB Society, it's the cornerstone of our success.
What's your superpower?
I can translate vision into reality and then position these brands to scale.
What's your biggest business challenge right now?
Bandwidth. We have a substantial growth plan across the portfolio in the next year with a full pipeline of signed LOIs and leases well into 2026. We also have new concepts in the FB Society concept "lab." Scaling our brands while also creating new experiences never imagined keeps me busy!
What inspires you now?
I'm a naturally curious person. I devour podcasts, I'm a news junkie, and love to travel. I'm an idea collector and they can come from anywhere. A short road trip to Austin or a weekend in New Braunfels, Texas help me slow down and really live in the moment. A sign in a small town or meal in a roadside diner can bring equal inspiration. I almost always find something to bring back to my personal and work lives.
Gibbons recently won the EY Entrepreneur of the Year® 2023 Southwest for his visionary leadership and is a finalist for the national award. Gibbons' flair for creating innovative ventures and unforgettable dining experiences has established FB Society as a leading brand in the restaurant industry and solidified his place as a transformative hospitality leader.
Meet Jack Gibbons in person at Peach 20/20 on November 14 as he shares the stage with Peter Martin in a one-on-one interview.