27 Jul 2023
Ajith Jayawickrema: What I've learned so far…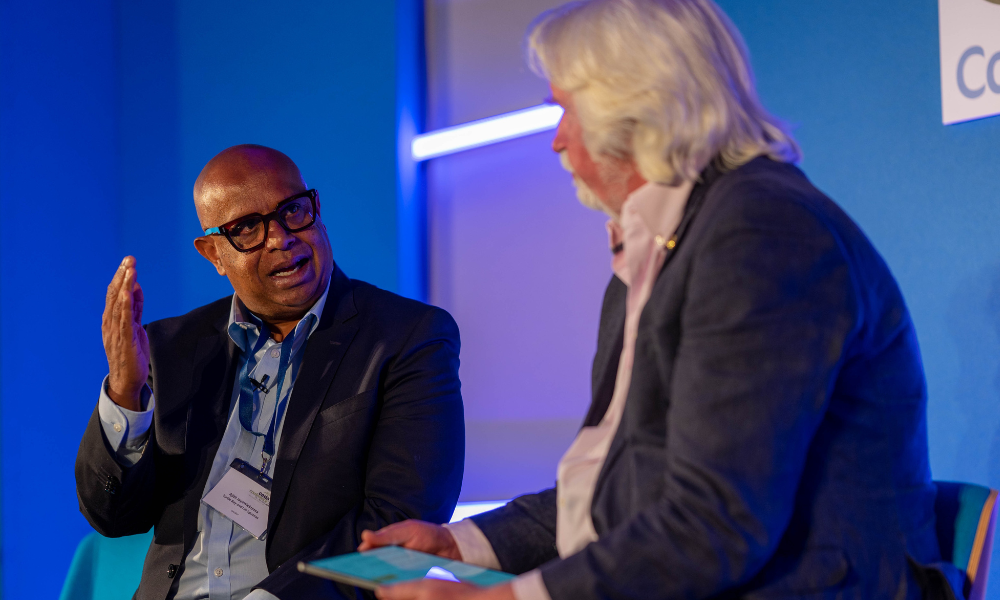 Ajith Jayawickrema has seen it all in this industry. Co-founder of two iconic casual dining brands and a non-exec and investor at others, he's now more than 30 years into his hospitality career—and at the 2023 ceda Conference he told Peach 20/20's Peter Martin what he's learned. Here are the top takeaways.
On… Starting out
Jayawickrema's first brand was Las Iguanas, set up with schoolfriend Erin Ali in the early 1990s. It's a classic tale of hospitality entrepreneurialism. "I borrowed £10,000 from my bank manager as a car loan at 19.5% interest," he remembered. "I'd been on a fly-drive trip to California and was blown over by the level of hospitality there, and realised Britain was stale by comparison. I got made redundant and had no money, so I had nothing to lose." By the time Jayawickrema exited for good in 2015, Las Iguanas was an £88m business.
On… Setting up Turtle Bay
After moving on from Las Iguanas, Jayawickrema could have sat on the beach. But instead he repeated the trick—this time solo and with Caribbean food and drink at Turtle Bay. "I'd been to the Caribbean and knew a bit about the food, but I wasn't an expert. The trigger was watching X Factor [in 2006] and seeing Leona Lewis win. I thought: wow—22 million people voted for this Caribbean girl, but no-one's doing that food [in managed casual dining]." Thirteen years on from the first Turtle Bay in Milton Keynes, the brand has just opened its 50th site.
On… The difficult second business
"Starting a business for the second time was easier," Jayawickrema thinks. "Some problems were identical—like landlords not wanting to give you good locations if you're a new company without covenants. But I did all my learning at Las Iguanas, and second time round I knew exactly what I wanted to do. It's like a band making that difficult second album—they don't always work, but thankfully Turtle Bay has made it big. We've got great sales and EBITDA and we've come out stronger than ever after the pandemic."
On… Reaching the mass market
Las Iguanas and Turtle Bay have plenty of things in common—like their fusion of bar and restaurant, party atmosphere and accessibility. "They're both very democratic. Most operators try to talk to a particular audience or income, but both those brands can appeal to people on minimum wage as well as someone who's a banker. It's the attitude that the customers love about the places… it doesn't matter what your class is," Jayawickrema told the ceda Conference. This approach creates versatile brands that work in all types of areas, from Brixton to Leamington Spa. "I want to be mass… to be joined by an attitude. That's a quite difficult concept to get right for most people, but it means we can go to more places."
On… Hiring
Mass appeal stems from the teams on the restaurant floor, and Jayawickrema knows that good recruitment and retention build the foundations for success. "We try to make sure that people with the right attitudes join our business, and we spend an awful lot of money creating the right kind of culture. That starts from the top—it's about how you interact, how friendly you are and how much fun you have… and that feeds into the customers [experiences]."
On… Moving on
Jayawickrema has taken more of a back seat as Turtle Bay has grown, leaving more control in the capable hands of CEO Nick Crossley and Chair Jane O'Riordan. He's always known when to move aside. "My sweet spot is starting up and growing a business to a certain level," he said. "My attention span is up to 45 to 50 sites—after that I don't want to write long board reports or debate the size of the ice cubes. I want to stick to the bits I really enjoy, and I like to be able to remember people's names and matter to those I'm working with. Beyond a certain size the business needs to be managed differently: that's inevitable. I know I'll probably make a mess of it if I stay on for another 150 sites."
On… Working with private equity
Another key relationship is with investors. In Jayawickrema's case, that means Piper, a very successful investor in Las Iguanas and now a minority shareholder in Turtle Bay. "Money is important, but the quality of the money is even more important… the kind of people you're going to work with."
On… Keeping casual dining fresh
With a bit more time on his hands, Jayawickrema is now giving other operators the benefit of his experience, like pan-Asian brand Tampopo. "That business has gone through its ups and downs and it needs reinventing to make it relevant for today." That reflects a shift in people's eating habits that has opened up space in the middle ground between chef-led and fast-casual restaurants. "Those two ends will always do well, but that middle bit is where the fascinating things are going to happen," he thinks—but only if the guest experience is right. "I'm in the business of good times. Whatever we do, the food, drink, music and environment all need to make customers feel they're going out for a good time. It's universal: in hard times and in better times, people want a good time."