06 Jul 2023
AI in hospitality: Are the benefits worth the risks?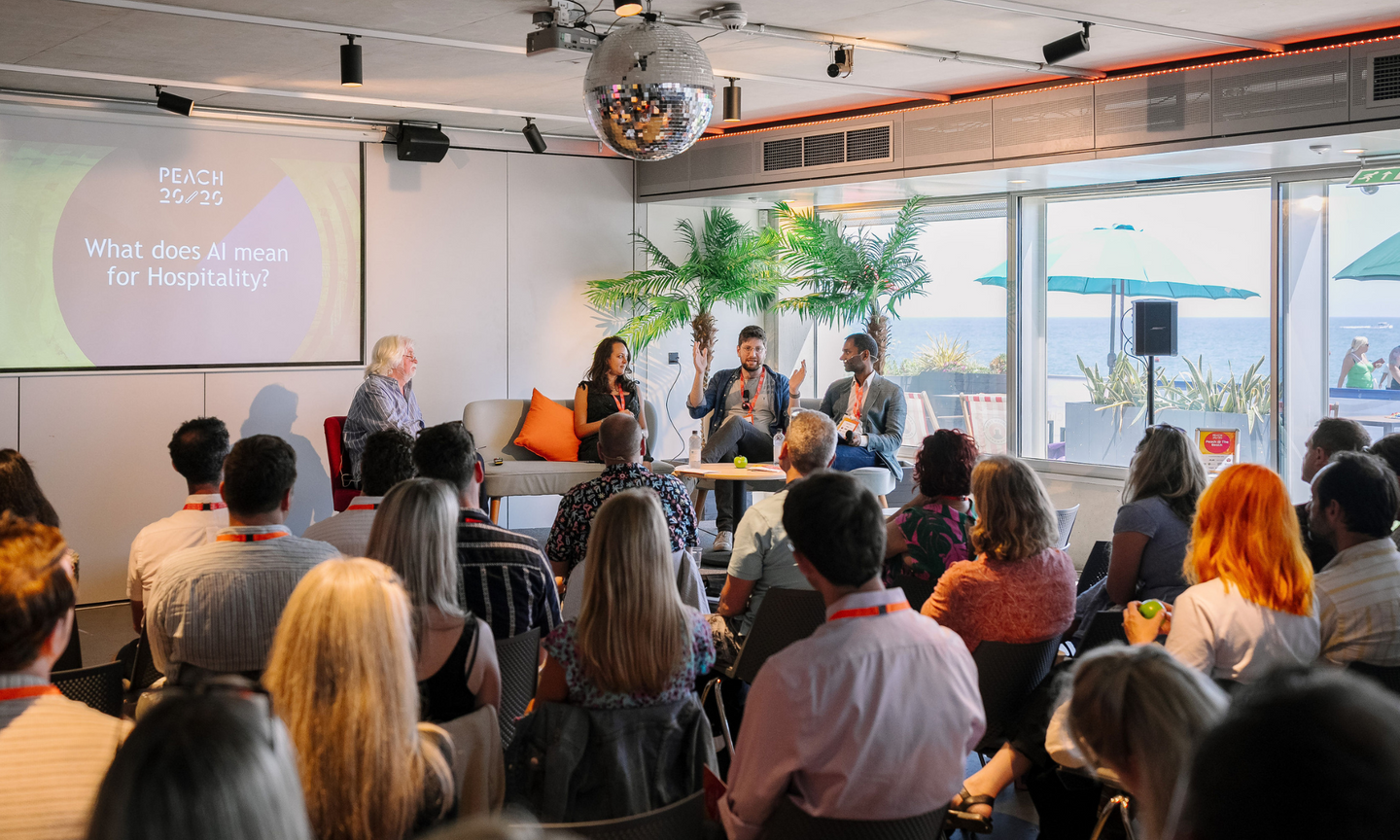 A lot's been said lately about the impact of AI on business and jobs—much of it apocalyptic. But what does it mean for hospitality in practice? A special session at Peach 20/20's Peach @ The Beach unwrapped both the benefits and risks.
The tech expert: 'It creates some fantastic opportunities'
Yfood founder and CEO Nadia El Hadery said AI was already well embedded in many areas. Insights and forecasting tool KisanHub, farming robotics specialist Tortuga Agtech and autonomous agriculture drones provider Precision AI are three examples of how it can make the supply chain more efficient—and the reduction of waste brings important environmental benefits too.
AI can also help people make food part of healthier lifestyles. Virta is enabling people to reverse Type 2 diabetes, while Foodhak is one of a wave of new fresh delivery services. But for operators, some of the most exciting potential is at back-of-house. Tools like Satis.ai help to streamline cooking and packing processes, while salad prep robot Spyce, now part of the US Sweetgreen chain, is saving labour. For more examples of AI innovation coming down the line, look to big QSR brands in the US, El Hadery suggested.
"There are challenges we need to address around AI, but it also creates some fantastic opportunities to do things better," she said. And while some teams might be wary of automation, they soon see the benefits. "There's a bit of resistance, and AI needs training. But at the end of it they're happy because it frees up mental and physical stresses… overall, staff performance is better."
The operator: 'Tech should be a means to an end'
Operators including Azzurri are making good use of AI in restaurants, on tasks like supply chain forecasting, labour scheduling and marketing content generation. "I'm excited about it… it's going to give us the opportunity to do more for the same [resources]," said digital and technology director Joel Robinson at Peach @ The Beach. He agreed with El Hadery that staff soon get on board, especially at back of house—and removing menial tasks can help with recruitment and retention. "Once our teams get over the adoption curve they love it."
But if AI brings so many benefits, what's holding some businesses back? As with many aspects of tech adoption, it's often about cash. With margins under such strain and so many areas competing for investment, it's not always easy to make the case for more money. But UK hospitality businesses' spend on tech is a fraction of their counterparts in countries including the US, Robinson said. "We have to be honest with ourselves as a sector about what we need to do to unlock the advantages [of AI]… we need to invest more time in getting the foundations right."
It's also vital to stay focused on guests' needs. "We try to understand what consumers are expecting and how we automate to make things more efficient… If it doesn't resonate, that's the quickest way to go out of business." Azzurri's also avoiding using tech for tech's sake. "As with every technology that's ever existed, what are the problems you're trying to solve? Tech should be a means to an end, not an end in itself."
The lawyer: 'Things are moving very fast'
There are legal issues to consider as well, especially around plagiarism, data protection and emerging AI regulations, said Jonathan Emmanuel of law firm Bird & Bird. "'Tech has been super-charged by the pandemic… Things are moving very fast now." There are a lot of questions to tackle, especially around generative AI. What's the copyright status of content you develop with AI? What happens if an AI provider uses your data or content to benefit one of your competitors?
These risks shouldn't stop operators from embracing this technology, Emmanuel added. "If you're underusing AI and your competitors are using it, you're putting yourself at a competitive disadvantage."
With acceptance growing and costs falling, AI's role in hospitality will only grow. But as Robinson pointed out, it's not going to change the appeal of eating and drinking out. "Connecting people over food and drink is not going away, and if anything the need will only grow in an AI-driven society… [because] we crave connection more than ever." More change is coming, but the fundamentals stay the same. "In 20 years' time things will look very different—but our businesses will still be providing that core, human experience."
Peach @ The Beach was supported by event partners Airship, Bird & Bird, Casual Dining, CGA by NIQ, COREcruitment, Lucky Saint, Square, Toast, Toggle, Wireless Social and Zonal.
Our next conference and networking event takes place on 14th November 2023 at the Roundhouse, London. If you would like to join us, you can request an invite here.